Matthew McConaughey Tells Us Why He's the Voice of 'Hank the Cowdog'
McConaughey gets into the nitty gritty of his new podcast based on a kids' classic.
by Donna Freydkin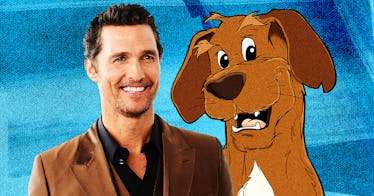 Getty
Yup, that's the University of Texas' Minister of Culture you hear voicing a canine with glorious delusions of grandeur in the Hank the Cowdog podcast. Matthew McConaughey, who produced in and stars in the series based on the series of books written by John R. Erickson, approached the role with the same dedication, commitment, and sense of purpose he brings to everything he does. And it's paid off, engendering him newfound respect from his three kids. "They'll put a few more ice cubes in my iced tea," drawls the dad of Levi, 12, Vida, 10, and Livingston, 7.
He teamed up with Jeff Nichols, who wrote and produced Hank, and directed McConaughey in 2013's exquisitely thoughtful and understated Mud, a delicate parable about an escaped convict who befriends two teen boys and enlists their help to reunite with his true love. The two have since forged a legit friendship as fathers, both based in Austin, and teamed back up for QCODE media's kiddie podcast.
But don't for a second presume that McConaughey is a yes man, even when his buddy comes calling with a project. "I have no trouble going, 'No thank you. Thanks but no thanks.' We don't B.S. each other. If we're coming together creatively, we've really considered it and why," says McConaughey.
Fatherly's coolest dad of 2020 joins Nichols to talk about canines, comedy, and earning some cool points with their kids.
Hank the Cowdog centers around the head of ranch security who views himself as a "purebred top-of-the-line blue-ribbon Cowdog," whatever the hell that means. Let's talk about the podcast and how it all came together.
Jeff Nichols: I originally read these books to my son — my wife brought them home from work. She was working at Texas Monthly magazine, which used to publish Hank the Cowdog way back in the '80s. And she brought an old copy of book number 11 home and I knew nothing about the book series growing up in Arkansas. I wasn't aware of it.
And I just started reading it to my son, who was about five at the time. I've been writing with Matthew's voice in my head. I just immediately started reading it as him and I started doing kind of Matthew McConaughey's affectations.
I worked up the courage to ask Matthew to read them. And I gave him a copy of the book. And we've been talking about it ever since.
Matthew, you're a busy dude. What made you say yes, I want to do this, during a pandemic, when you have another book coming out, Greenlights?
Matthew McConaughey: Jeff and I worked together on Mud. Jeff and I are always looking for ways to work together. We work together on quite a few other things that aren't even about real entertainment of any kind. We continually talk about to each other about being the best men we can be, about being the best fathers, we can be experiences that we're in and going through. So, he came to me with a book. I started reading it to my kids and reading it aloud.
If he comes to me with something, I know that he's thought about it. It spoke to a lot of values that he and I agree on. And it looked fun. It could be educational. We got a recording session set up. I just thought we'd have fun in the recording booth.
You mentioned values earlier. What values of yours did this reflect?
MM: You got the importance of family. Duty. Responsibility. Accountability. Courage. It's all given to you in a non-legislative way. His reach exceeds his grasp. But he's still king of the ranch. It's not force-feeding these values. It's easy and fun to digest. It doesn't feel like a textbook. It's told in a really fun storytelling way. To be entertained, to learn a few things that are good for the soul — good to be a part of that.
How do you get this done during a pandemic? When you can't be around other people and you in particular, Matthew, since your mom, who's in her 80s, lives with you?
MM: Jeff set this up. We will then go into the booth, we'll still be six feet from each other. I'm on a pretty tight quarantine. He set it to be what we technically needed to do, but also just with minimal, minimal people. There were only four people on the premises.
How would each of you describe the other as a dad?
JN: The first word that just popped in my head was thoughtful. I remember one time. It was one of the first times I brought my son over. And we were on a trampoline and they were kicking a soccer ball around and my son, who was only about three years old at the time, kicked it and it hit his son in the face. And for a second there, you know, everybody tenses up, and you're not exactly sure what's gonna happen. And Matthew just very thoughtfully said, 'He didn't mean to do that. It's all right.' It was just a very thoughtful approach. That's how Matthew approaches life too. It's thoughtful.
MM: I'll ditto that with Nichols. Thoughtful, conscientious. I'll see him and I've heard him talk to his son Sam in a similar way. He doesn't talk down. He's still talking to a much younger person. But Jeff is very, what's the word, fairness is a big value for Jeff Nichols as a man and as a father. He's not someone who intrudes on your space. He doesn't enforce himself. He holds a distance. He lets Sam become who he is. We're similar in that we want to have autonomous, conscientious children. I've seen fathers be too much buddies with their child and not enough of a father. Jeff walks that line really well. That's my answer.
Jeff, is Hank gonna say any of Matthew's catchphrases? For example, the timeless alright, alright, alright.
JN: If Hank did, it wouldn't be outside the realm of reality. You know, Matthew is always examining the world around him. It's what made his portrayal of Mud so great. This was a guy that was turning things around in the sunlight and holding them up and looking at him. Hank is very similar.
He's almost got thoughts that are, considering he's a dog, they're kind of well beyond his purview. And so sometimes he gets some things wrong, but he's still reaching for this world around him and his interpretation of it. And, and it's really fun over the years to hear Matthew experience the world that way and talk about the world that way. And when I was reading Hank, it seemed similar, save for the limitation that he's a dog. There's no world where if Hank said, alright alright alright, it would come out and make sense. There's the right person for the right part. We're in that situation right now.
Matthew, do you get bigger cool points from your kids for this or playing the panda in Sing?
MM: I'll say this. This is the most current and it's new. We just played the kiddos some music yesterday, Hank singing, and they walked away and through the afternoon they were singing the song and having dialogue to the rhythm of the songs.
I haven't made many things that's the right kind of fare for them. They'll see what papa was doing all those years working in a few years. They're not ready for quite a few of the ones I've made. This is another treat. I see my relevance in their eyes. Not as a father. But I'm now giving them a piece of entertainment that is in their lap and is right for them. I've had Sing. I've had Kubo and the Two Strings. And now I have this. 'Papa, you're the dog? You're Hank? That's you?' They think it's very cool. I get a little more relevance.
Which role that Matthew has played is most reflective of who he is as a dad?
MM: Without thinking too much, I'm going to go to the movie we made, Mud. It's an aristocrat at heart. A strong romantic, Mud was. At the same time, the way he measured those young men, he challenged them. He wanted to see the kind of mettle they had. I love that part of Mud that kept those boys wondering if he's completely our buddy? He deeply cared for them and challenged them and didn't talk to them and didn't pander to them. What do you think?
JN: Mud is a film about mentors. It's about a film about the example we set for the younger people in our lives. Sometimes good examples, and sometimes bad ones, and the consequences that that holds. As a father, I'm always dealing with that. Mud as a character represented that. He meant so much those boys. They looked up to him and, and he carried magic in his words and his deeds. But he also brought some hard realities down their heads. And I think that kind of that's pretty much is what it feels like to be a father.
You can check-out the Hank the Cowdog podcast right here.
This article was originally published on