How All the New Marvel Disney+ Shows Set-Up New Marvel Movies
Things are getting complicated. Let's talk it out.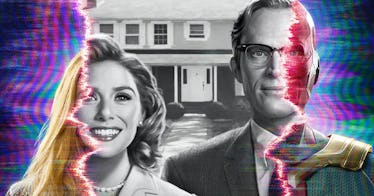 Disney+
Disney announced a ton of new Disney+ series yesterday, and it clearly thinks the best way to beat back Netflix and HBO Max is to continue its strategy of focusing on its blue-chip intellectual property instead of new shows untethered to any previous mythologies. An astonishing ten new Star Wars series are in the pipeline, as are several series inspired by Pixar fare like Moana.
And then there's Marvel. Unveiled were new trailers for WandaVision, The Falcon and the Winter Soldier, Loki, and What If? Brand-new series Ironheart and Secret Invasion—both of which Marvel head Kevin Feige said would tie directly into upcoming MCU films—and Armor Wars, Don Cheadle dealing with Stark Industries tech falling into the wrong hands, were also revealed. There's also a Guardians of the Galaxy holiday special coming in two years and I Am Groot, a series of short films starring—you guessed it—Groot. So that should be fun.
On the movie side, Ant-Man and the Wasp: Quantumania is officially in development with the principal cast and director Peyton Reed set to return and Jonathan Majors joining the series as Kang the Conqueror. Marvel is also developing a new Fantastic Four movie.
So how does this slew of new titles fit into the MCU? It's impossible to know how all of these stories might intersect until we, you know, see them. But the information we have does point to at least three different connections.
1. Ironheart is poised to succeed Iron Man.
2. Secret Invasion will be a sort of Captain Marvel 1.5.
Secret InvasionCaptain MarvelSecret Invasion
3. WandaVision will set up Doctor Strange in the Multiverse of Madness (which will set up the coming Spider-Man multiverse).
Doctor StrangeWandaVisionSpider-ManDoctor Strange in the Multiverse of MadnessSpider-Man 2To be clear, the only thing you have to worry about right now is WandaVision, which hits Disney+ on January 15, 2021.