Disney+ Is Hiding the Best Marvel Show For Young Women
by Rebecca Jane Stokes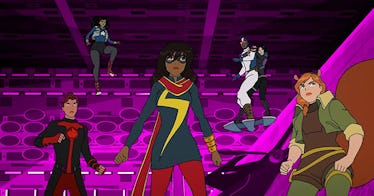 Marvel/Disney+
If you haven't watched the Marvel Rising cartoon series on Disney+, it's okay. You don't need to work extra hard to communicate your dedication to all things Marvel Studios with some sort of special dance, and you certainly aren't alone. While Disney+ could boast that it alone has access to one of the best superhero TV shows for young girls around, it makes actually watching the said show next to impossible. That's because, in classic Marvel fashion, Rising is more than a TV show – and I don't just mean because it's a vehicle for celebrated role models Kamala Khan and Squirrel Girl, I mean literally, it wasn't just a show. When the Rising crew first met the world on the small screen, it was in the form of a TV movie (Marvel Rising: Secret Warriors)…followed by several webisodes…followed by a TV special, wait, I mean 5 TV specials. Gah. You see where a person can get confused, yes? Marvel Rising is a multi-part animated series, featuring some of the non-male Marvel heroes you won't see in the big flashy live-action shows.
Thankfully, I've done all the research so you can watch the series in the correct order because Disney+ isn't helping you! Hold your applause, please, that's just the kind of dedicated Marvel mama I am. But first! A taste of what you'll be digging into when you crack open the wonderful world of Marvel Rising. If you're a Marvel fan or a girl-dad (or my both) this isn't a show you want to miss. Its protagonists are young women grappling not just with super foes, but with their own adolescence in a real way.
Marvel Rising first launched as a comic in 2018, centering around a band of teenage superheroes (you know, the ones doing the proverbial rising) know as the Secret Warriors. Heading up the cast is Miss Marvel otherwise known as Kamala Khan, Marvel's first Muslim superhero, and Squirrel Girl, a happily not-thin, hilarious character so beloved among Marvel writers that it is rumored when the character was first announced in 2010, she received more applause than when Stan Lee used to enter the room!
All of the movies, webisodes, and specials are available on Disney+, but unlike any other show, you can't easily watch it in any sort of order. Unlike most streaming shows, it is inexplicably, not arranged in order. Even a jaunt to Wikipedia to try and get things straight won't bring you any clear answer.
I suppose this sort of problem is inevitable when you create something as multifaceted as the 'multimedia franchise' Marvel: Rising is meant to be. But I mean, if anyone could figure it out, it should be Disney+. Heck, to be only mildly cynical, you'd think with feminism being the cultural norm Disney would be quick to see an opportunity to ride a trend, marketing the show in a cringey "girl power" branding sort of way. Alas, that was not to be – at least not yet!
Here's the right order to watch the show in, with some notes for where things get a bit tricky – because that is a thing that is going to happen if you want to watch the whole uh, multimedia franchise visual experience?
1. Marvel Rising – Secret Warriors
The movie that started it all! Watch Miss Marvel, Squirrel Girl (and Tippy Toe the squirrel, naturally), America, and Patriot be taken under the wing of Captain Marvel herself as the gang deals with shifting perceptions about what it means to be 'Inhuman'.
This is the second piece of the puzzle, a 6-part webisode series that follows Ghost Spider and the gang after she's accused of murdering her best friend. Unlike with the Secret Warriors, you'll have to individually select each episode, so know that!
The Secret Warriors adventures continue in the 5, 22-minute TV specials:
3. Marvel Rising – Chasing Ghosts
4. Marvel Rising – Heart of Iron
5. Marvel Rising – Battle of the Bands
6. Marvel Rising – Operation Shuri
7. Marvel Rising – Playing with Fire
Enjoy! There are a lot of bros on Falcon and Winter Soldier, consider this the antidote.