The Best Kids Magazine Subscriptions to Encourage Learning
Whether your kid loves art, science or sports, there's a magazine for them.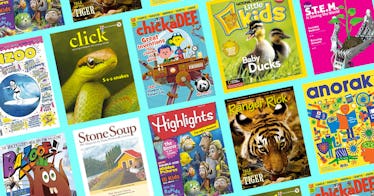 Magazine subscriptions for kids provide fun opportunities for your kids to learn about their favorite subjects. Not only is it more enjoyable for kids to hold a real object, but most studies also show you retain more from reading from a physical page than a screen. In fact, the heft and physicality of the printed page might actually contribute to a deeper understanding of reading too. Magazine subscriptions for kids provide the opportunity for your kids to experience this old-timey act while learning about their favorite subjects. And they get the joy of receiving something in the mailbox on a regular occasion! Give a kid a magazine subscription for Christmas and you're giving them a year's worth of new experiences.
Like all things, some kids magazine subscriptions are better than others. Kids magazines should be "vibrant, beautiful, interactive, and entertaining," says Erin Bried, the founder, and editor of Kazoo magazine, one of the latest (and greatest) entries into kids publishing. "It should take its readers on a journey that starts on the first page and ends on that last page." These magazines will have kids eagerly running to the mailbox to look for their next issue. (Prices reflect the cost of a one-year subscription, though the number of issues included varies.)
New Moon Girls
New Moon Girls aims to connect with young women in their tweens and teens. The younger edition has less feminine fiction and more activities than its older counterpart. But the spirit of showing your daughter she can throw that copy of Cosmo in the trash is still strong.
Ages: 9 to 16
Kazoo
Mom and long-time magazine editor Erin Bried saw the absence of worthwhile periodicals for the powerful little women-to-be. So she created a kids' magazine that highlights badass women in STEM fields, experiments to do at home, and crafts that aren't just throwing glitter and macaroni on construction paper.
Ages: 5 to 12
Xyza News
It's essentially grown-up news, made digestible for the young mind. It's like The Week — co-founders Sapna Satagopan and Joanne Suen break down the week's kid-appropriate news in language they can absorb.
Ages: 6 to 12
Click
Click plays into the idea that kids are explorers and researchers. This magazine has nine issues per year and each issue explores a single topic in-depth. This magazine is truly meant to challenge your child and expand their horizon beyond just some basic animal facts. Although Click says kids as young as 3 can enjoy the magazine, it does skew a little bit older than that.
Ages: 3 to 6
National Geographic for Little Kids
From the makers of National Geographic and Nat Geo for Kids comes a kids' magazine that's aimed at even younger kids. And, because this comes from the explorer society that has lasted for 128 years, you can bet your lost-tribe hunting that it's full of factual information.
Ages: 3 to 6
Highlights
Highlights has been printed since 1946 and it's probably safe to say they've learned a thing or two about how to get kids all jazzed on reading (that's old-timey for "excited"). Each 40-page issue has hours of activities, games, and stories that aim to fulfill its "Fun With a Purpose" motto.
Ages: 6 to 12
ChickaDee
ChickaDee is sorta of like Reader's Digest for kids. It offers a wide range of topics, like people and animal profiles (but sadly not people animals, like Pan), kid-friendly fiction, brain games, jokes, comics, and hot takes on topical kid stuff. And, like Reader's Digest, they fit neatly on top of the potty.
Ages: 6 to 9
Muse
Muse is a science and arts magazine for tweens that includes stories about the hip aspects of STEM education; think pieces about ladybugs and at least one kid's narrative from her first Burning Man. It's kind of like training wheels for when you bust out Utne Reader, but without all the adds for Bragg's Liquid Aminos.
Ages: 9 to 14
Bazoof
Bazoof has the standard comics, games, and wacky stories — but it also serves up a healthy portion of information about clean living. Inside is information about nutrition, personal care, exercise, and general happiness. Think of Goop, but instead of Gwyneth Paltrow, there's a totally jacked alligator named Jerry that talks about blasting his quads.
Ages: 8 to 12
Stone Soup
Started in 1973 in Santa Cruz, California, Stone Soup is a literary arts journal comprised entirely of stories, poems, and illustrations by kids. The Children's Art Foundation — the nonprofit responsible for the kids' magazine — is dedicated to encouraging childhood creativity. And unlike you, your kid can even get paid for their submissions.
Ages: 8 to 13
Ranger Rick
As old as the mountains in its pages, Ranger Rick is the longest-running children's magazine about nature. Produced by the National Wildlife Federation since 1976, the content has a conservationist lens and helps make environmental issues accessible for third graders and climate-change deniers alike.
Ages: 7+
Anorak
Anorak is a visually magazine that is worthy of collecting thanks to its beautiful design, sturdy (and recycled) paper stock, and bright, happy pages. It has plenty of engaging activities, games, and compelling storytelling, but this magazine stands out for its design — and will no doubt inspire the young artist in your house.
Ages: 6 to 12
Ask
The magazine Ask encourages kids to keep asking questions, and even provides them with some answers. Usually, more than half the issue is dedicated to science and the other half explores history and art. As a parent, you might even enjoy learning alongside your kids with Ask.
Ages: 6 to 9
SI for Kids
If sports is one of the things that you and your kid bond over, then a subscription to SI for Kids is a no-brainer. There's a lot of hero worship in the pages, and it generally steers clear of sticky subjects like PEDs and domestic violence What it will do is get them up to speed in time to dominate on DraftKings for Kids (which isn't a thing — yet).
Ages: 8 to 13
Youth Runner
If your kid loves to run and could use some more focus or inspiration, this magazine has tips from expert runners as well as profiles of runners from across the age spectrum. Whether they want to challenge themselves or prepare for competitive running, this is a great magazine as they get their feet under them.
Ages: 10 to 16
Faces
Give your child a tour around the world to learn about important inventions and ideas from other cultures through articles, folk tales, recipes, illustrations, and hands-on projects. With outstanding photography and insight from local voices, every issue of Faces is an emersion into a new culture.
Ages: 9 to 14
Jack and Jill
When your kid picks up an issue of Jack and Jill, they are sure to find something of interest. The magazine is full of jokes, stories, crafts, puzzles and other activities focused on engagement and creativity. There's always plenty to keep them busy beyond simply reading each issue.
Ages: 6 to 12
Chickadee
As grade schoolers grow in their curiosity and independence, Chickadee provides a collection of interactive stories, puzzles, animal features, and science experiments to educate and entertain kids. The Chickadee team works with 6- to 9-year-old kids across North America, along with curriculum experts, to ensure that the magazine is educational and engaging.
Ages: 6 to 9
This article was originally published on