The Nearly 2-Mile Longleat Hedge Maze Is Begging Your Family To Get Lost In It
It's the longest of its kind in the world.
by Zoe Weiner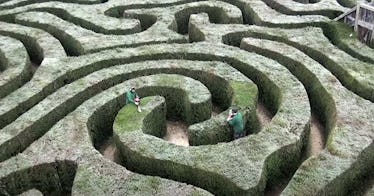 Youtube / Longleat
Because your kids are, well, kids, there's a good chance that they're obsessed with Labyrinth, Harry Potter, Greek myths, puzzles, or, at the very least, running around. In other words, there's no way they won't enjoy navigating the enormous (and slightly terrifying) hedge maze situated at the Longleat Estate in Warminster, England. No, it can't guarantee you'll find the Goblin King/Tri-Wizard Cup/Minotaur hiding in its center. But it can provide the most fun you and the family ever had getting lost. Especially since no one will be hassling you to "just ask for directions" after 45 minutes.
Located 3 hours from London, the Longleat hedge maze is the world's longest maze of it's kind. The twisting, turning, meticulously kept, nearly 2-mile creation is made of 16,000 English yew bushes. The 8-foot hedges wind around a central observation tower that serves as your one focal point of the exit. Dozens of dead ends await, as do 6 raised bridges that provide you and your kids a bird's eye view of the horticultural creation. Oh, and there's only one way out so you better hit the bathroom before entering.
The maze opened in 1975 is part of the 8,000-acre grounds the Marquesses of Bath have called home since the mid-1500s. The property is now owned by the 7th Marquess, Alexander Thynn. He's known for his … eccentric lifestyle (think: lots of mistresses and erotic murals around his house). And he also happens to love mazes. And, in addition to the hedge maze, there are 4 others on the grounds. One of the coolest? King Arthur's Mirror Maze, an underground labyrinth that, via optical illusions, appears 6 times larger than it actually is. (Unfortunately, no sword in the stone awaits.)
Now, real masters can make it through the hedge maze in less than 2 minutes. But the journey should take regular guests anywhere from 25 minutes to an hour and a half. If you find yourself really turned around and don't have a signal flare, there are several "lift if lost" signs along the route. And yes, you can cheat using your phone's GPS, but don't be that family.
Mazes not enough to get you to Longleat? The grounds also house one of the world's largest drivable safaris. It has more than 500 animals, including elephants, giraffes, and zebras. There are also several historic houses, and the grounds host various seasonal exhibitions, from fireworks shows to exhibits drawn from storybooks.
Longleat is open all year round, and tickets are available online or upon arrival for kids and families of all ages (prices vary). Unfortunately, the maze isn't stroller or wheelchair-friendly, but the rest of the grounds and activities are fully accessible. May the odds be ever in your favor.
This article was originally published on