Raffi's Pal Lindsay Munroe's New Album 'Frogs and Birds' Is Straight-Up Great
Lindsay Munroe has the Raffi-approved magic.
by Rebecca Jane Stokes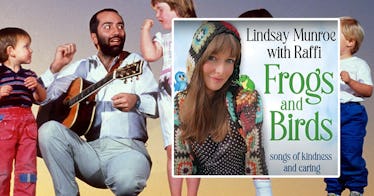 GETTY
If you're a toddler parent you know what it's like to listen to the same songs over and over (and over and over) again. Little ones have strong opinions when it comes to their bops of choice. But that doesn't have to mean a life of Baby Shark on an endless loop! While the more jaded folk out there might find it hard to believe, music for toddlers can also just be straight-up good music. Lindsay Munroe is proof of just that.
Munroe's forthcoming album for children, Frogs, and Birds is being released by Raffi's Troubador label on August 27th, and if a musician is Raffi-approved for children, you know you aren't being sold a false bill of goods. Did I mention she's the first person in a decade besides the man himself to appear on Raffi's label? Raffi's involvement with Munroe's songs didn't stop in the office, either. The singer himself joins Munroe on several tracks throughout the album, which already has me feeling wistfully nostalgic in the best way.
As of July 7th, you can pre-order Munroe's album Frogs and Birds which is being released on August 21, 2021.
This article was originally published on