'King of Atlantis' On HBO Max Family Is the 'Aquaman' Your Kids Need
Check out an exclusive clip right here.
by Harlan Sharpe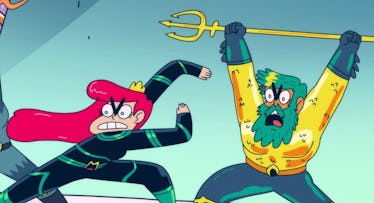 Credit: HBO Max
Move over Momoa! The greatest Aquaman for kids right now isn't the live-action version of the underwater hero, but instead, the animated Aquaman: King of Atlantis.
If you've missed this series on HBO Max Kids and Family, now's your chance to — ahem — dive in. So far, there are two chapters out of this zany kid-friendly version of Aquaman, but we've got a special sneak-peek at Chapter 3 — the finale — right here. Watch it below
Here are the details from HBO Max:
"WarnerMedia Kids & Family released today an exciting sneak peek at the final installment of the hit animated mini-series event Aquaman: King of Atlantis. In "Chapter Three: Tidal Shift," Ocean Master and Pytor Morticov join forces to try to overthrow Aquaman, forcing the DC Super Hero to dig deep to prove he's the right man for the throne and save the city of Atlantis. "
This hilarious finale follows events of the first and second episode and will dive onto HBO Max on Thursday, Oct. 28.
This article was originally published on