6 Kids Birthday Cupcake Design Ideas That Don't Suck
Want a birthday dessert that really stands out? Make your kid's birthday cupcakes look like an ice cream cone, cookie animal, or, sure, a poop emoji.
by Lauren Steele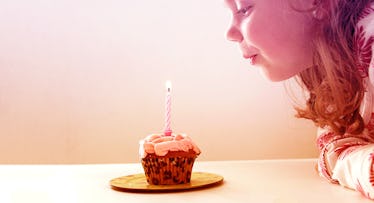 Cupcakes really are that simple: put cake batter in a piece of paper, shove it in the oven, and put some frosting on top. But you can do so much more with the flavors and presentation. If your little one has a birthday coming up, look no further for some unique, fun, creative, and weird cupcake designs that really stand out.
RELATED: How to Throw a Kids' Birthday Party That's Fun for Adults Too
Nutter Butter Animals
Skip this one if your little tike has a nut allergy. If not, grab a package of Nutter Butters and let those sweet little peanut butter cookies do the work for you. You can use Nutter Butters as the design base for both horse- and dog-face cupcakes. Just grab some cashews, black icing, Nilla wafers, and candy eyes for the rest of the components and put them together.
Poop Emoji Cakes
Poop toys are the big trend right now, so why not cake? Celebrate every kid's favorite running joke by whipping up a poop emoji in cupcake form.
Cupcake Bouquet
Kill two birds with one stone by getting your partner a bouquet and simultaneously baking your birthday kid's cupcakes. Really, the design looks involved, but all you have to do is attach the cupcakes to a Styrofoam ball (you can find one in the crafts section of any big store) with toothpicks, frost them with some pretty petals, and present the finished product in a planter.
Cupcake Burgers
This recipe looks like a cheeseburger, but it tastes like a cupcake. It's brilliant, but also, this recipe is not for the faint of heart. It's pretty involved, and you'll definitely need some backup and an extra pair of hands from your partner. But the end result is well worth it.
Cowboy and Cowgirl Cupcakes
Have a cowboy or cowgirl on your hands? This cupcake design offers maximum theme delivery with minimal effort. All you need is some Twizzlers Pull N' Peels, Pringles, and gumdrops to create the (may we say) cute little cowboy hats that top these cupcakes. Plus, you'll get to eat all the leftover Pringles. Win.
Ice Cream Cone Cupcakes
It's cake and ice cream — but really it's just cake that looks like ice cream. These cupcakes are also deceptively easy to make (who knew you could bake sugar cones?). Just pour the batter in the cones, bake at 350, throw some icing on top, and let the kids put the cherries and sprinkles on top.
This article was originally published on