8 Talented Kid Bands With YouTube Channels That Rock Hard
by Alison Zeidman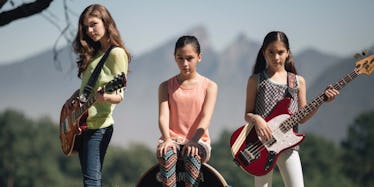 There are tons of studies on the virtues of dragging your kid to piano and violin lessons each week. But to get all the positive emotional, social, and developmental effects they actually have to practice. Yeah it'll get them to Carnegie Hall, but it's even better if they headline the Bowery Ballroom. Since begging and bribing them won't work, here are the best YouTube channels that feature pint-sized rock legends in the making, all riffing at a 12th grade level. They'll show Junior that practicing is a lot more fun when they can rip "Hot for Teacher" instead of listen to a teacher.
Sleepy Man
Your kid might roll their eyes at the idea of starting a band with their siblings (RIP Jonas Brothers), but it's worked out pretty well for Sleepy Man. This New Jersey bluegrass trio is actually multiple boys, not a singular man, but they've already graced the stage at TED conferences and The Late Show with David Letterman. Maybe the "Sleepy Man" is their dad driving them to these late-night gigs.
O'Keefe Music Foundation
The kids who attend the O'Keefe Music Foundation are all classically trained — as in, classic rock. Kids as young as 5 shred the best of Pantera, Meatloaf, Ozzy, and the current all-school project: Working on an album of Danzig covers. "Father, do you wanna bang heads with me?" You thought they'd never ask.
The Mini Band
If your 12-year-old self got to meet Metallica and they told you they dug your band, you'd probably cry all over James Hetfield (he seems emotionally available). But, for The Mini Band, that's just an average fan meet-and-greet. They're a group of UK metal heads ages 12 to 15, and their sick licks will take you back to your Headbanger's Ball days. Just stay out of the mosh pit — you'll pull something.
Unlocking The Truth
Brooklyn might be getting too soft for rap (Jay Z's Bed-Stuy didn't have cupcake shops), but Unlocking The Truth is paving the way for hard rock. These city-kid metalheads have barely started high school, but they've already torn up YouTube, released an original album, and stopped traffic in Times Square.
Callum The Heavy Metal Kid
If your kid already hates haircuts, watching Callum The Heavy Metal Kid isn't going to help. But this little dude can shred, and he looks pretty freaking cool doing it. (The wall of flames also helps.) At just 10 years old, Callum has a voice that made Ozzy Osbourne actually sit up and be coherent for a few minutes. And he already has an endorsement deal from a major guitar string company. What have you done that's so great?
The Warning
If you think your daughter will love seeing an all-girl band — you're right, but so will your son, and both should take notes from these badass chicks. The Warning sisters went viral with their "Enter Sandman" cover, and they've played everywhere from SXSW to The Ellen Show. Now they're working on originals, and the bass player isn't even in high school yet.
Avery Molek
The only thing more impressive than 9-year-old Avery Molek on drums? Avery Molek's parents, who let a 2-year-old have a drum kit. Since those early bang-crash-boom days, he's uploaded over 100 videos, gone on tour at an age most kids are starting kindergarten, and is probably the first 7-year-old who can say they've filled in on drums for KISS.
Jonah Rocks
Jonah's parents are keeping him out of the network TV spotlight for now, but he regularly uploads new videos to his Jonah Rocks YouTube page, which has gone viral more than once. And if you were excited about the new Blink 182 album, you'll dig this kid's taste in song selections. When you get to play a solo on Travis Barker's kit during a show — and he claps at the end — you know you've made it.