Where To Stream Every Ken Burns Documentary
From Ken Burns' movies about the Civil War, Hemingway, and more, here's where you can stream all his movies.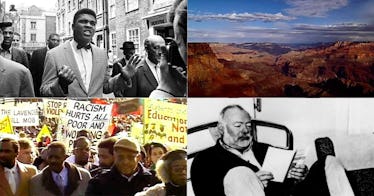 Do you watch documentaries to learn or to be entertained? With the really, really good ones, you don't have to make that choice. And when, it comes to accessible, and smart documentaries, it's hard to beat Ken Burns. From documentaries about the Civil War, immersion in country music, a good Burns documentary has it all.
And now, thanks to the stream-ability of over 900 hours of PBS documentaries, including the complete filmography of the man, the myth, the legend: Kenneth Lauren Burns.
That's right, PBS has made everything Ken Burns has ever made, from 1981's Brooklyn Bridge to his more recent series about Muhammad Ali and Ernest Hemingway, available to watch at two different online venues: an Amazon Prime video channel ($3.99/month on top of a Prime membership) and PBS Passport, the streaming service for everyone who gives at least $5 a month to their local PBS station.
If it's been a while since you had ten hours to spend on a historical docuseries full of talking heads and panned and zoomed black and white photos. Here are five great titles to start with.
Alongside the likes of Mark Twain and Herman Melville, Ernest Hemingway is one of the foundational figures in American literature. And over the course of six episodes, Burns provides a meticulous and fascinating glimpse into the mind behind The Sun Also Rises, For Whom the Bell Tolls, and several other classics. Beyond simply telling the story of Hemingway's life, this docuseries allows viewers to hear from the man himself, as well as his friends and family, by sharing letters written by and to him over the course of his life.
Burns's first epic docuseries, The Civil War remains a prime example of his style and its potential: to tell a complicated, historically remote story in an engaging, educational way.
Five years after his death from Parkinson's, Ali remains one of the most celebrated and iconic athletes in American history. And the life of this larger-than-life figure gets an in-depth exploration in this eight-hour series that dives into Ali both as a fighter and as a man. As usual, Burns manages to examine the complexity and nuance of his subject, giving new insight into the legendary boxer beyond his bravado and skill in the ring.
While he's better known for his work on famous subjects, Horatio's Drive shows that the Burns method can also tell a smaller story, about the first person to drive across the country in a car.
Continually relevant for the worst of reasons, The Central Park Five chronicles the wrongful conviction of five Black and Latino teens in the 1989 rape of a white woman in Central Park. If you found Ava Duvernay's When They See Us, it's definitely worth taking in this documentary version of the story.
This article was originally published on