'Last Jedi' Hero Kelly Marie Tran is Ready to Inspire Girls Again With 'Raya'
Tran says her new Disney character is "the hero of her own story."
by Donna Freydkin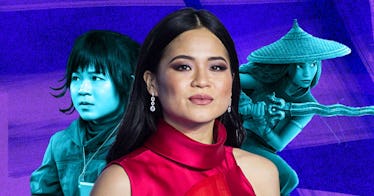 Disney;Getty
If anyone deserves a triumphant return to the screen, it's Kelly Marie Tran. After landing the plum role of upbeat Resistance mechanic Rose Tico in Star Wars: The Last Jedi, Tran weathered the kind of vitriolic trolling usually reserved for trophy hunters, dog abusers, and Ted Cruz. A clearly shaken Tran ultimately quit Instagram and hasn't dipped her toes into the world of social media since. Being in the pop culture crosshairs is exhausting at best, and soul-crushing at worst, so Tran quietly dealt it on her own terms. And now, it's time to welcome Tran back in her history-making turn as Disney's first Southeast Asian heroine, plucky warrior princess Raya in Disney's Raya and the Last Dragon, streaming this Friday. She's the kind of role model we can all feel good about: Outspoken, resolute, focused, and fearless.
The timing is fortuitous: Attacks against Asian Americans have skyrocketed since the onset of the COVID-19 pandemic, which Trump dubbed the "Chinese virus." At the same time, small glimmers of hope and progress breakthrough: Nomadland's Chloé Zhao just became the first Asian woman to win the Golden Globe for best director.
Tran is very aware that context matters, and she's all for "the idea that we are celebrating a part of the world that is not often celebrated on this scale. I think this movie does a really good job of broadening the idea of what does it mean to be a hero. What does it mean to be a princess and what are the types of people we think of in our heads when we hear those words instinctively — and we're really broadening the idea of that. And that is a big, big deal to me."
How would you have felt, as a little Asian-American girl growing up in California if you'd seen a character like Raya?
I think I would have felt really seen. I remember being a kid and I remember wanting to see myself in things, but not really knowing how to put that into words. We're living in a world now where we have all of these words that are shared vocabulary for these issues that we discuss all the time, but that was not the world I was living in. When I grew up, we didn't have words.
We didn't say "representation" in the media a lot. We didn't talk about a lot of the things that are on the forefront of people's minds when we think about media today. It would have meant a lot to me as a little kid to see someone who not only looked like me but who also interacted with her friends the way I did. And to see her be the hero of her own story is a really important distinction as well.
She's not rescued by a prince and she doesn't have to change the way she looks to please anyone.
Raya is a character that we really haven't seen before. What's crazy about it is that you don't even recognize how it is framing how you view the world. It's so subconscious and then you get older and then you realize. 'Why am I doing this thing, instinctually?' I think what we're doing here is really important in terms of just trying to change that narrative.
She's such a bad-ass warrior, and I have to think that given everything I've read about you, there's gotta be a lot of you in her and vice versa.
I mean, I think whenever you were playing a character, by the end of it, you don't really know how to separate them, if that makes sense. And that's huge for me. I put so much of myself in her and I, and I would like to think that I'm leaving with a little bit of her in me in a good way.
Speaking of not backing down, you took a very firm line about social media, when you were bullied after being cast in Star Wars. What do you say to parents now struggling with how to manage social media for their kids? It's toxic out there.
I think it's a very individual choice and it's a hard decision. Absolutely. People have to kind of make the decisions for themselves. And for me, I think the most important thing is going back to what is the best for my mental health, whether that's taking breaks from it every once in a while, whether that's having some sort of boundaries. What kind of words are you making sure are not being used in that space? For me it's really about preserving your own mental health and recognizing at the end of the day, I think that's probably the most important thing.
Oh, I'm not on it. I think we don't really recognize the ways in which things affect us. Like, I think now people are saying things like, you know, this isn't normal, it's not normal to be interacted with this way and in that world. And just because something happens often doesn't mean we should normalize it. I don't think that's a good thing.
You were a badass pilot in Star Wars: The Last Jedi. What did you take from that experience?
What did I take from it? It was so such a whirlwind for me. I really was someone who had worked a little bit before but was definitely working a day job and felt like I won the lottery or something. And suddenly I was put into this world that so many people loved and it felt like both a big honor and a huge responsibility I wanted to not only live up to the opportunity that was given me to be knowing that not many people get that opportunity and that I'm in a privileged position to be able to experience these things, but also wanting to recognize my own self-worth. I learned a lot from that experience. Now, being able to be in this movie and Raya just feels — I'm so filled with hope and joy for the way in which our media is moving. And that's really exciting.
And the timing feels fortuitous, in a very unfortunate sense. An Asian heroine at a time when we're seeing a huge uptick in crimes against Asians. It's a really solid way to frame the news.
I agree. You can never plan for your movie to come out in response to anything. That's never how it works. These movies take so long to make, but what's so special to me is that we are living in such a tumultuous, horrific time for the Asian community. And to have this movie come out where we can celebrate ourselves and see ourselves depicted in a way that makes us proud and gives us a reason to just feel joy — that makes me so happy to know.
So what happens the next time you're picking out fruit at Whole Foods, some kid hears your voice, and screams, 'Oh, that's Raya.' You know that's gonna happen, right?
I haven't seriously thought about that until this moment. I'm actually really excited to see if that ever happens.
You can stream Raya the Last Dragon on Disney+ using "premiere access" on Friday, March 5, 2021. You can order it right now.
This article was originally published on