Kamala Harris' Niece Meena Has Seriously Good Advice for Parents of Ambitious Girls
Meena Harris, author of 'Ambitious Girl' wants our girls to be LOUD.
by Donna Freydkin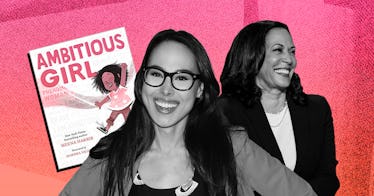 Being a working parent is chaotic at the best of times. Suffice to say, this isn't the best of times, with schools mostly closed and parents mostly losing what's left of their minds. Five days before the inauguration which will see her aunt Kamala Harris sworn as the first female vice president, children's book author, and activist Meena Harris is having a peak WFH moment. You know that moment. You've lived that moment. It's when, in the midst of an interview (or a meeting, or a Zoom call, or fill in the blank), your kid desperately needs you, professional commitments be damned.
"Mommy, which underwear should I pack in this bag? Which underwear should I go and put in the suitcase? After you're done with the call can we pack together?" yells Harris' ebullient four-year-old daughter from the next room.
"Yes, absolutely. I told you we could," Harris replies, before adding, "It's been going on for two days."
"It" refers to the frenetic planning that's overtaken Harris' life as she, her partner, and their two daughters (ages four and two) get ready to fly to Washington, D.C., to see their "auntie" sworn in. And it's impossible to not get all the feels when you think about the ceiling that Kamala Harris just coolly shattered in her no-nonsense Converse kicks: She's first woman, the first Black person, and the first South Asian to serve as second in command of this country. So yeah, her two grand-nieces (Meena is the daughter of Harris' sister Maya) are pretty psyched. They have every right to be.
"My older one, she's been packing seriously for two days straight. And it's non-stop and she's reading every book that has ever been written about Joe and Auntie. She's obsessed with Joe Biden. She just cannot contain herself," says Harris.
She's not overselling anything. Midway through the aforementioned afternoon Zoom, the irrepressible preschooler takes over the mic to showcase her favorite book. It's about a fellow named Joe Biden. "I'm going to meet Barack Obama. I'm going to meet Joe two times now. And I met him one time too," says the little girl (Harris asked that their names not be used in this story), who bonded with the incoming president over ice mint chocolate chip ice cream.
Harris talks to Fatherly about representation, racism, and raising strong women.
A burning question first: Do you know what you're wearing to the inauguration?
I have to pack everybody. My four-year-old is, as I said, helping with that, which is making more mess. I have to get the two kids ready. So I don't know. I I'm still figuring it out. It's the whole balance between trying to be stylish, but it's going to be freezing cold. I remember vividly the inauguration in 2008 and I had not yet moved to the East Coast. I was still had only lived on the West Coast. It was the coldest weather I had ever experienced in my entire life. I am a little bit worried that we're not going to be warm enough, so I have to figure that out. I just hope everything goes safely and that we actually get to celebrate, the big historic moment that it is.
Doesn't it feel like the adults are back in the room?
Competent leadership, empathetic, compassionate leadership. We're really back to the basics. That's the least we can expect in our country's leadership. We have to look backwards and understand what led to this moment and understand the root causes of it. I am hopeful and I'm excited about also being able to look forward in an optimistic way, which I have not been able to do for the last four years.
You're a lawyer who worked in tech. How did you come to run the Phenomenal Woman Action Campaign? And please note I am wearing one of your shirts.
I joke that I'm an accidental entrepreneur. It started off as a very small idea to raise money for women's organizations coming out of the 2016 election. So we decided to launch this one-month fundraising campaign and launched it on International Women's Day in 2017. And the rest is history.
Your book, Ambitious Girl is out now and seeks to make kids aware of the power of certain words. It couldn't be timelier.
I carry it around everywhere, which means that I just sit in the same place all day long and I pull it out of a drawer because this is what we do during COVID.
I grew up in a really unique family. I now realize that, especially as an adult and as a parent. I had this worldview that was all female. And I was taught that (ambition) was a good thing, that it meant purpose and determination, that it meant having a big idea, having a vision, wanting to solve a problem and believing that you could. As I got older, especially in the working world, I came to realize that we, as a society actually don't view ambition so positively and rather female ambition in particular. It's almost a dirty word.
So that's what the book is all about. It's a little girl who's on this journey of realizing how society does that and perceives female ambition. And it's about taking it back, reframing it, redefining it, not doing what we are told, which is to hide our ambition. To wear it on your chest, to claim it and name it.
So many women I know, myself included, were brought up to be nice, polite, and to not rock the boat. How do you raise your two daughters to think differently?
It starts with, again, language. And how we use it and, and in our houses, what connotation it has. I teach them to be opinionated to observe the world and to be critical thinkers. And so it's about asking questions and ultimately as I was raised that translates into questioning the status quo. There's active work that we can be doing in that way. It's just being curious, asking questions, not accepting things as they are presented to you.
So as an example, our kids are maniacs and are very loud. And sometimes I want to be like, 'That's too loud.' But I really am thoughtful about how I communicate that: Pairing it with indoor voices versus outdoor voices rather than you're so loud, don't be loud. It's about being careful with how we use language and, and what connotation is behind it. And I think the last thing I'll say on that is that there's a lot of subconscious stuff. That that comes through because the patriarchy is deep. It runs through everything. We are all affected by this.
It's about framing it in such a way that kids understand. I've talked to my son, who's 10, about the BLM protests, what caused them, the reality of institutional racism and how it applies to his own friends.
We saw that coming out of this past summer where I think people were really waking up and we had this reckoning in a way that I think really shook people. And I just hope that folks stick with it. It is hard work, right? We're tired. We're living through a public health crisis and a pandemic. I struggle with even just doing laundry and folding it and getting it actually put away, getting dinner on the table, let alone trying to have deep conversations with our kids. But the point is it's active. Don't just do it on one weekend, keep it up. It doesn't necessarily have to be every single day, but just be actively thinking about this and those little moments, no matter how small they are, where you can thread this into how you interact with and just talk to your kids.
Kids understand the concept of fairness and injustice.
I believe we shouldn't coddle children.We should be honest with them as much as that is age appropriate. And I think that with everything going on in the world, there is a way to make it age-appropriate, and again, to connect it to more universal values and lessons right around the experiences of other communities. And so we've talked to our kids about the fact that police have killed Black people. We've talked about the fact that people have died and that is not easy to talk about at all. For us, it's also about protecting our kids and making sure that they understand that their interactions with the (police) would very likely be different then their white friends.
Historically Black families have always had these conversations because it is about protection and survival. White families need to be talking about it also. And there is a way to do that. That again, ultimately, helps all of us.