'Handmaid's Tale' Star Joseph Fiennes Says Sometimes He's "the Grumpy Dad"
Fiennes talks to Fatherly about the new season of the hit Hulu show, and why he tries to keep his family off social media.
by Donna Freydkin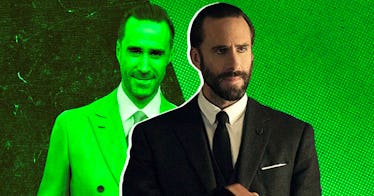 Getty / MGM Television
The fourth season of The Handmaid's Tale — streaming on Hulu on April 28 — is not suddenly going to go soft. Right away, June (Elisabeth Moss) is shot in the stomach after she goes into a full revolutionary mode. She's on the run. Her captor and rapist Captain Fred Waterford (Joseph Fiennes) is in the slammer. A cozy private hospital isn't in the cards. So she gets cauterized. Without pain meds. You can do the rest of the math in your head.
The thing is, no one is more thrilled by the glorious downfall of his character than Fiennes himself. "What we have here is the great fight back. I think that's the great thing about season four. I think it's one of my favorite seasons, if not my favorite season, for a number of reasons. One is that for how psychologically and physically scarred June is, those scars have monumental teeth and she's ready to bite. The audience will be satisfied with the fight back," he says.
The real-life dad of Isabel, 10, and Sam, 11, plays the show's most contemptible character, mostly because his evil is tempered by extreme self-awareness. And it's hard, without question, to reconcile the charming playwright from Shakespeare in Love with the sleazy, cooly nefarious Waterford, a man who helped found the repressive Gilead regime and toys with June, whose only purpose is to bear his children, because he can.
It's even harder to remember that the charming guy talking to Fatherly about his love of polar plunges and deep appreciation of family time is the same sociopath now locked up in a TV prison.
I've seen the first few episodes, and wow. Fred's not in a good place right now.
Fred's world has come crashing down, it's been burnt to the ground. His wife (Yvonne Strahovski) has thrown him under the bus and it's about time. He's reeling within the confines of this rather plush Canadian holding cell before he's taken in front of the war crimes tribunal. He's having time to reflect. I've always felt that a part of him is appalled, genuinely appalled, at the way that he behaves, whether it's brutalizing his wife or raping and murdering others. It's that element, which I happily lean into, that is the human element, which is more frightening. It's the predator who continues to rationalize his false sense of superiority.
I ramble, so interrupt!
Do you enjoy playing a character who's so, well, contemptible because he has so many layers to him?
Would I say he is fun to play? I don't know. I find him very creepy and odd and rather uncomfortable at times. But there is a sort of nuance, a human nuance, which I quite like. It's quite fun to navigate the horrible predator rationalization. That's what makes him, for me, evil and frightening and human at the same time.
This season is all about freedom, as you said. June escapes. And she's leading the charge.
It's about freedom. You know, Fred's not free, but he's free from the regime in many ways. But what I love about this season is that it's about the continual fight back.
It's the season of two-handers, really, because of COVID. A lot of the writers eliminated huge group scenes, and it's become rather this amazing kind of theater experience where you get to have, you know, four or five or seven pages of great in-depth nuanced scenes where characters really reveal themselves. I've loved this season for some stunning scenes and acting and revelations and characters.
Do people approach you and ask you about playing Fred? Or has that stopped given that we're in masks?
Even with masks, I don't know if it's my forehead and my receding hairline, but it is identifiable. I've been picked out even with a mask, so there's no escape. People do give me very, very long and puzzled looks where they know that they've met me before, and I'm a very bad person and they can't quite kind of line it up. I half-expect to get punched in the streets, and then there are other people who come up and say, 'Blessed be the fruit.'
Have your kids seen the show? I assume not.
They're too young. I hope that they don't come across the series because while I'm hugely proud of my participation in the show and it's such an important show, I'm not so proud to have them see that that's dad. Even though I'm playing a part and participate in this story. I think they'll find that very difficult. We'll have to talk about that if and when that happens in the future, but right now that they're too young.
Honestly, you're so private I didn't even know you had kids until this interview. How have you managed to be on this huge show, and still live this quiet life?
Just by living a normal life and just by not participating, I don't participate in social media or anything like that and neither do (my kids). Our life is very much outdoors. Social media hasn't quite hijacked their life as of yet, but they're moving into preteens and teens. So that may change. I do try to tell them that nothing really is for free and data is the next biggest thing to gold and oil. So I try to educate them on those things, but then I feel like I'm ruining the party a bit. I feel like sort of the grumpy dad. That's a hard one.
Now that season four is over, what's next? I imagine filming during COVID was brutal; Elisabeth said she directed three episodes largely because the set was so controlled in terms of who was allowed on.
I'm at the moment not racing to do too much. It's been a long time for me being away from the family. It was several months in Canada, only coming back once for Christmas break, which was tough for me. In other years, I brought them with me and they've schooled in Canada. They've still got remnants of Canadian accents, which is lovely. But this year, we were apart and I found that very, very, very tough. It's the first time I hit a bit of a blue patch.
You'd mentioned that you followed the lead of Wim Hof, a Dutch extreme athlete famous for withstanding extreme temperatures?
I actually got a few of the cast members, even Ann Dowd, to come into the Lake of Ontario. Yvonne and her husband, Tim, joined me every month through the winter of Canada. Even breaking the ice to do so.
Because filming during a pandemic wasn't difficult enough?
Well, it's an interesting thing. No pain could come quite as close as missing your family for months on end, but I just set myself this task and a few of the cast members joined us. I was really impressed by Ann Dowd going in there. We're talking about almost freezing temperatures and she was incredible. It's all about being physically challenged, physically uncomfortable. It's great for your self-esteem.
It's weirdly addictive actually. It's incredible how the body adapts. When you're uncomfortable vis-a-vis the cold, you'd come out of the lake and shiver, and then your body actually stopped shivering for a while. And it sort of works through it. There were some days where it took me 20 minutes before my hands came back to being warm again.
What have you learned about yourself while playing Fred?
I think I've learned to listen to others. I've learned so much as an actor through Elisabeth Moss, who's raised my game. To act as she does, to produce as she does, the last to leave the set and emailing all through the main to LA, and watching the cuts…she knows the material inside out. I have such a love and trust for Lizzie. So you give yourself wholeheartedly. Her work is stunning.
I've learned about the importance of collaboration with our brilliant writers and our showrunner, Bruce. I've learned how lucky we are to be working in a pandemic. I feel changed in the best way. As a whole company, I think we feel honored to b part of something that while it's entertainment also has huge parallels with what's going on in the world and around us. I've learned to be humble if you can.