Photographer Jesse Burke is Raising Wild Daughters
Watch photographer Jesse Burke turn the woods into his kids' classroom.
by Aaminah Khan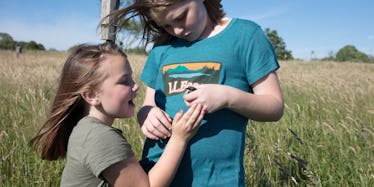 The following was produced with our friends at L.L.Bean, who believe that, on the inside, we're all outsiders.
The woods have always been a sanctuary for Jesse Burke. Growing up in what he describes as "lower middle class, rough neighborhoods," the photographer sought every opportunity to swim, fish, and hunt snakes in nearby ponds and woods. "I didn't realize it as a kid, but it was an escape from the grittiness of life," he says. The connection he formed with nature and the lessons he learned in those wild days stuck with him as he set out to see the world and make his way in it.
When he settled in Rhode Island with his family, he made it a point to encourage his kids to get outside. His 2015 monograph, Wild & Precious, chronicled five years of nature exploration with his daughter, Clover, from their hometown beaches to the remote Canadian wilderness.
"I haven't fit my family into my work, I've made my work fit into my family and values," he explained.
Fatherly recently tagged along with Jesse and Clover as they returned to their favorite classroom in the woods. He had a lot to say. He seemed at home and happy. His daughters did as well.
"Once a kid is out of the infant stage and walking, talking, and understanding life, you come to this moment of 'What do I want this kid to know? What do they need to know is important?' For me, it was an intimate connection with nature."
"You have this essentially free, unlimited resource of nature out in the world. You just have to make it a priority to go out and do it. We're all busy; you have to prioritize time."
"Going out there and really engaging what's presented to you is how you make memories, get them hooked, and drive home the lessons. It's the difference between strolling through the woods and digging in the dirt for salamanders and eventually finding one."
"Stop and really look down in the dirt, up in the trees, get physical, touch things. You make incredible memories that are more than just a walk. The more you do that, the more kids get engaged and want to do it. My kids are champing at the bit to explore outside."
"We saw diamondback terrapins dig their holes and lay their eggs. They come up for one week a year–that's a rare, special sight for anyone, let alone an 11-year-old learning conservation."
"My goal in all my work and life, in general, is to always have a balance of serious, emotional moments and fun, wild ones. The girls are used to it–working but also having fun."
"The first time a kid holds a baby bird, that could change their life. It's magical. I want to instill that in my daughter so she'll become the next protector of these species. I only can hope all the stuff is true and has meaning."
"My kids, if they're in the woods and see a snake, they run and grab it. My friends freak out when their kids hold a worm or a chicken. Most kids have no exposure to this stuff, but they all need a healthy balance. That's why it's my message and I think it's so important."
"Kids might learn about this stuff in biology class but to me, the classroom in the woods is an equally important form of academia. I'll take my kids out of school to go out on nature days all the time. They'll miss a few classes but what they're' gaining is priceless."
"The world is a fragile place and we cannot screw it up. That's not up for debate. We need to engage kids in nature. I'm hoping that by doing this stuff I can set up future generations of environmental stewards who will care about the diamondback terrapins. I'm fighting that fight."
This article was originally published on