Here Are Jerry Stiller's Most Hilarious TV and Movie Moments
The comedy legend has passed away. Here's some of his best work.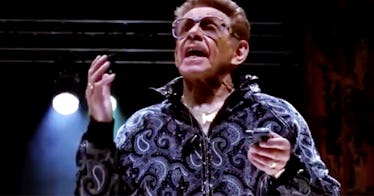 Paramount
Comedian and actor Jerry Stiller has died of natural causes at the age of 92.
Stiller got his start in a comedy duo with his wife Anne, to whom he was married from 1954 until her death in 2015. Later in his career, he became best known as George Costanza's dad on Seinfeld and in various appearances in films with his real-life son, Ben Stiller, who announced his father's passing in a tweet sent early this morning.
Born and raised in Brooklyn, Stiller served in World War II. He took advantage of the G.I. bill to study drama at Syracuse University upon his return stateside. He met Anne Meara in 1953. They were married the following year and went on to perform as "Stiller & Meara" one of the most successful comedy acts of the era.
Stiller did a little bit of everything in his six-decade career, from nightclub shows to celebrity game shows to commercials to Broadway. He also wrote a memoir and has some smaller roles in dramas like The Taking of Pelham One Two Three and both filmed versions of the musical Hairspray.
Arguably, his greatest achievement as a performer was creating one of the classic sitcom characters of all time. Appearing in just 26 episodes, the constantly yelling, constantly kvetching Frank Costanza endeared Stiller to a new generation of fans and made "Serenity Now!" part of the lexicon.
And we'd be remiss if we didn't mention Festivus, a made-up holiday that people actually celebrate thanks in part to Stiller's adept airing of grievances.
After Seinfeld ended, he landed a part as the similarly bombastic Arthur Spooner on King of Queens, appearing on all 206 episodes of that show's nine-season run.
Stiller also acted alongside his son in several films, including Heavyweights, The Heartbreak Kid, and Zoolander, in which he played Maury Ballstein, fashion agent extraordinaire and consumer of leftover casserole.
Fittingly, Stiller's final on-screen credit was alongside his son in 2016's Zoolander 2.
This article was originally published on