'It: Chapter 2′ Grown-Up Losers' Club Revealed
An Oscar nominee and an SNL veteran are among the cast of the highly anticipated horror sequel.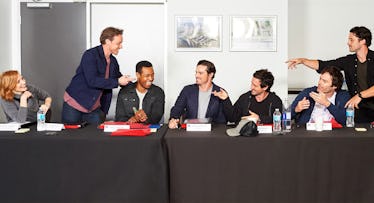 ITMovieOfficial/Twitter
The Losers' Club is back and all grown up. Warner Brothers released a picture of the cast of the upcoming horror film It: Chapter Two. They are shown at a table read for the sequel to the 2017 hit, which, by the way, we do not recommend for young kids.
The highly-anticipated sequel will star Jessica Chastain as Beverly Marsh, James McAvoy as "Suttering Bill" Denbrough, Isaiah Mustafa as Mike Hanlon, Jay Ryan as Ben Hanscom, James Ransone as Eddie Kaspbrak, Bill Hader as Richie Tozier and Andy Bean as Stanley Uris. While not included in the picture, Bill Skarsgard will reprise the role of Pennywise, the murderous clown who preys upon the children of Derry, Maine.
In that first film, a surprise hit that grossed $700 million worldwide, a group of kids band together to take on Pennywise. The child actors from the first film will also return in the sequel: Jaeden Lieberher as Bill, Wyatt Oleff as Stanley, Sophia Lillis as Beverly, Finn Wolfhard as Richie, Jeremy Ray Taylor as Ben, Chosen Jacobs as Mike, and Jack Dylan Grazer as Eddie.
Stephen King's novel, published in 1986, was set in both 1958 and 1985, so it makes sense that the sequel would feature both the child and adult versions of the Losers' Club. Audiences will have to wait until September 6, 2019, to see what brings the club back to Derry.