Is 'The House with a Clock in Its Walls' Too Scary For My Kids?
If they're under the age of 8, then the answer is yes!
by Alicia Kort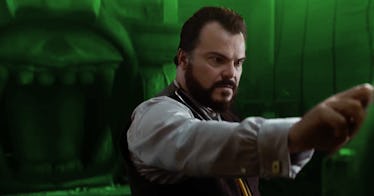 Universal Pictures
The House with a Clock in Its Walls has been drawing comparisons to a series about a certain boy wizard with a lightning scar on his forehead. The trailer does hit the same beats: An orphan is whisked away from his home to find a magical world and finds out that he's actually a pretty powerful wizard, but evil forces are also at work. But unlike Harry Potter and the Sorcerer's Stone, The House with a Clock is much more frightening for children.
If you've seen the trailer, you're aware of the creepy old-timey dolls and carnival figurines that attack the 10-year-old protagonist Lewis Barnavelt. There's even one that looks like a devil. Unless your child is a burgeoning horror fan at the age of 5, it's probably not a good idea to take them to see this movie.
The film is based on a 1973 book by John Bellairs that was illustrated by Edward Gorey. If you're not familiar with Gorey, he drew Victorian and Edwardian-inspired drawings that depicted vaguely unsettling scenes—usually death, graveyards, and creepy monsters. If you are familiar with Gorey, you can probably already decide if this movie is right for your kids. Do those illustrations freak your child out? Yes? Maybe skip this one. Do they love those Gorey illustrations? Great, they'll love this.
There are plenty of funny moments and gags to lighten up this film, including a topiary lion with some bowel issues, but the film features some necromancy (and they even call it that in the film). That's not quite a pleasant topic, and you probably don't want to have to explain to your kid what that means exactly. There are some jump-scares that might even catch you off guard. It's probably not a suitable film for children under 8 years old unless you'd like to sit up with them when they have The House with a Clock related nightmares.
That being said, children over that age will enjoy the movie and you might even too. There's some witty banter between Jack Black and Cate Blanchett. The scares won't have you ducking down in your chair, but it might bring remind you of some of the scarier movies of your childhood.
Don't expect that your child will learn the more complex morals that were doled out in the Harry Potter series. The film is meant more to entertain, but it does slip in a little lesson that "It's okay to be weird" and to embrace what makes you unique. Instead of bullying the child who wears flying goggles on his head, maybe you should get to know him. This isn't a bad takeaway in a film with enchanted, vomiting pumpkins.
This article was originally published on