How to Transform a Picnic Table Into a Backyard Masterpiece
Who doesn't wish their picnic table had a built-in cooler and wireless speakers? Here's how to make this dream with Krylon spray paint.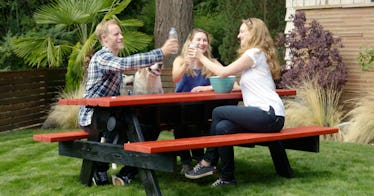 This story was produced in partnership with Krylon, the spray paint brand that can easily restore, refresh, recolor, and revive any project.
Rob Adams, a video game artist and father of two had a dream. "I wanted to be able to sit outside, eat, and listen to music without having to carry a stereo system and cooler out from the house," Adams says. It was a modest, but inspired idea. "I realized we were more likely to hang out outside if were weren't having to carry a bunch of stuff to the table," he says. Fortunately, Adams is handy with tools, wires, and a can of Krylon spray paint. Here's how he turned an everyday picnic table into a backyard centerpiece for his whole family.
Step 1: Get Your Supplies
Adams had seen cooler tables in his friends' backyards, but he knew there was nothing on the market that would be exactly what he wanted. "It happens a lot with home projects that I take on," Adams says. "You see things or have an idea but you can't buy it in the exact way you imagine or want it so you realize that what you can make yourself is better than what you can buy."
And Adams knew exactly what he wanted: a picnic table with a built-in tabletop cooler, speakers with a rechargeable weatherproof battery, and a paint job that looked just like an old portable boom box that he had as a teen. So he bought sandpaper, a few cans of Krylon® ColorMaster™ Paint + Primer– 25% More, stainless steel hinges and screws, wood screws, a plastic planter, and speakers.
Step 2: Restore an Old Table, Add a Cooler
Adams found a used table in the local classifieds. "I found a cheap, old worn out table that someone was selling because building a table from scratch was too much and this project was about up-cycling, right?" Adams says. To finish up the table restoration, Adams sanded the entire surface and used body filler to fix areas in the wood that had partially rotted away.
Adams then cut out the hole in the center of the table for the cooler and built the frame that holds the cooler in place with 1 x 2 and 2 x 2 pieces of lumber. He secured the frame with stainless steel screws and fasteners before drilling holes into the bottom of an outdoor plastic planter box (the cooler) that can be removed easily. "I wanted the cooler to be able to drain when the ice melts or if drinks spill because that just makes clean up so much easier," Adams says.
Step 3: Get Your Can
Once the cooler is in place it's time to paint it. This is where Adams' imagination came in. "I really loved that boom box I had as a teen and I remember going everywhere with it and thinking that the red and black color pattern on it was so cool," he explains.
But when it came to choosing paint, it wasn't just punchy colors that mattered. "I knew that no matter what, this table had to be able to withstand being rained on," Adams says. "I've used Krylon® ColorMaster™ paint in the past. It's great for the outdoors." Adams primed the table and then used Gloss Banner Red and Gloss Black to create the color-block look he loved.
Step 4: Install the Speakers
Adams wanted to install speakers that he knew could endure the outdoors, just like the rest of the table. So after looking for outdoor speakers and marine speakers, he found exactly what he needed: motorcycle speakers. "They're meant to live outdoors and are relatively low-power," Adams says. "I was able to hook them up to a 12-volt rechargeable battery that can be popped out of the table frame and recharged anytime — which made everything so easy."
Additionally, motorcycle speakers come with clamps (meant to be fastened to handlebars), so you can easily secure them to the frame of the table before fastening them with wood screws.
Step 5: Stock Your Table and Crank the Tunes
Now it is time to take a step back and see how a little ingenuity, elbow grease, and a few cans of Krylon spray paint can easily restore, refresh, and revive any project.
This article was originally published on