How To Throw a 'Paw Patrol' Party That Doesn't Suck
Raising a 'Paw Patrol' superfan? You're in luck, there is no easier birthday party to pull off than a 'Paw Patrol' party.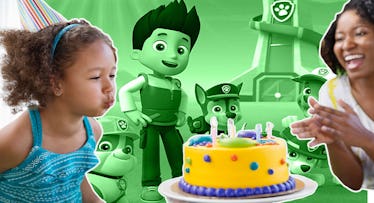 Just when you think you caught a brief break from Ryder and those eight insane first responder pups, your kid asks for a Paw Patrol birthday party. Congratulations, you've hit the birthday party jackpot. Seriously, there is hands-down no easier birthday party to pull off than a Paw Patrol party. Thanks to Nickelodeon's robust marketing department — complete with toys, DIY party planning, and easy-to-print activities — you can get everything you need for a Paw Patrol party on a computer for 30 minutes. It's enough to give you a whole new appreciation for the goings-on at Adventure Bay.
So pop on your Everest ears birthday party hats, get out your Paw Patrol invitations, and tell the kids to come dressed as their favorite dog to the party. Be forewarned, the kids that show up as cats, like those on the show, are probably up to no good.
Paw Patrol Decorations:
Whether you're having the party outside or inside, set up a puppy play area with green carpet (like this), blow-up trees, and plastic hydrants. For the rest of the decorations, take advantage of the Nickelodeon Parents' massive archive of party decorations that you can print and set up on your own. There's the official Paw Patrol birthday banner, the printable party cup wrappers, and DIY placemats to place around the room.
Oh, and about decorating the family dog: If you have the kind of mutt that takes dog costumes in stride, go for it, but make sure that all guests are ok with having the dog around before you let them loose and scare some of your more dog sensitive kids to tears.
Paw Patrol Party Favors:
If you're having a smaller party (8 or less), get them all mini backpacks — just like the Paw Patrol crew. Add a sticker to each bag so they correspond to different members of the team and then fill them with the full array of Paw Patrol toys and party favors. For a more affordable (read, cheaper) option, you should turn again to Nickelodeon Parents for the DIY Paw Patrol goody bags, with printable labels you can tape or staple to a bag filled with treats of your choosing.
Paw Patrol Activities:
This is a party that begs for a face painting station. Buy a case of face-painting crayons, and set up a station manned by an adult who can transform kids into their favorite hound. While everyone is waiting for their turn, print out sheets of Paw Patrol pics to color; fill a large jar with dog bones and have them try to guess the number of bones to win prizes; set up a Skye-themed dough-making station; and prepare a few non-thematic indoor activities, for good measure.
Paw Patrol Foods:
First of all, do away with cutlery and let everyone eat out of their very own dog bowls that they can take home after the party. Just make sure everything within are finger foods. Start with a hot dog station (the younger kids won't think twice about "eating dogs") and label the rest of your snacks with dog themes: Kibble (Chex mix), sticks to fetch (pretzel sticks); and chew toys (licorice sticks). Round out the party with a dog bone cake which is clever, but also exceedingly easy to shape. If you choose to instead go the cupcake route, print out these official Paw Patrol cupcake wrappers and toppers.
This article was originally published on