How to Throw a Dinosaur Birthday Party Doesn't Suck
Everyone loves dinosaurs and everyone loves birthday parties. What could go wrong?
by Hudson Lindenberger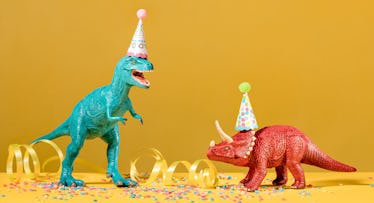 The release of yet another Jurassic Park movie this summer means that there will be more dinosaur toys, an uptick in interest in Dinosaur Train, an increase in attendance to natural history museums (we can only hope), and many more dinosaur birthday parties. Which means your kid might be asking you soon for a dino-themed shindig. Awesome. But where to start? First of all, try to steer clear of the movie that your kids probably can't watch anyway and give your party a more general paleontological lens. "I wouldn't suggest going the Jurassic Park pathway," says party planner Patricia Zutman, the owner of All Four Seasons Events. "Lots of parents will be doing that, plus it can feel generic." Instead, dust off your kids' best dinosaur books and get geeky with it. Here's where to start.
RELATED: How to Throw a Paw Patrol Party That Doesn't Suck
Decorations:
Zutman recommends turning the party area into a jungle and having the kids feel like they are stepping back in time. You can create some simple paper palm trees and then use the brown craft paper covered in dinosaur tracks you draw as your tablecloth. Buy a few dinosaur blow-up costumes and recruit some parents (who are ok with being swarmed by young kids) to be part of the landscape. To finish the look off string fake spider webs from Halloween throughout the room plus any and all dinosaur-related from the local party store to transport the kids back in time. "You are dealing with kids, so you just want to create a festive environment that evokes the mood," says Zutman.
Party Favors:
Have children pick their favorite dinosaur from your copy of Dinosaurs from A-Z upon arriving, then giver them a name-tag listing their choice, a few of the attributes that it was known for. Just be prepared for a lot of kids to love the ones they see in the movies driving the current craze — Velociraptor, T-Rex, and such, even if they are fake movie creations — super-rex. Gift bags can be decorated with various dinosaur cutouts and filled with plastic shovels, buckets, and candy. Then let them choose from a pile of dinosaur figurines — matching with their choice of dinosaur if at all possible (in other words, stock up on Velociraptors).
Activities:
"There are so many fun ways to keep the kids active around the dinosaur theme," says Zutman. "You can take just about any kid game and transform it to fit the party." Take a ring toss game and turn it into a Triceratops toss game; instead of pin the tail on the donkey you can place the arms on the T-Rex; or, Zutman's favorite, build a dino-dig. To do this, you take a large kiddie pool and fill it with sand and bury either a full dinosaur skeleton in it or cardboard cut-outs of bones that they can trade in for treats. Dinosaur sprinklers are also entirely a thing, so if you have an outdoor party, be sure to tell the kids to don swim trunks and set them loose on one of these watery sculptures.
Food:
For snack time take a watermelon and cut it out to look like a dinosaur head and fill it with fruit (here's your inspiration). Have a carnivore station with meat and cheese for the kids to make sandwiches with, an herbivore station with fruit and vegetables. For the sweet tooth (i.e. all the kids), make a "cookie bones" recipe which is basically sugar cookies rolled long and dipped in white icing. For the cake, focus on presentation over quality, with a store-bought cake that is jam-packed with dinosaur figurines on the top. Cake and dinosaur toys? You can't go wrong.
This article was originally published on