How to Throw a 'Black Panther' Birthday Party That Doesn't Suck
Does your home have a Black Panther superfan? You're in luck, a Black Panther-themed party is an easy one to pull off.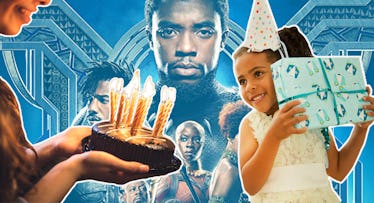 So, your kid wants a Black Panther birthday. They're not alone. Despite his weird fate in Avengers: Infinity War, T'challa's claws are firmly embedded in the hearts of children everywhere. So, how do you throw a kick-ass Black Panther party? Patricia Zultman, owner of All Four Seasons Events out of Denver, suggests you start by making your party feel like it's "in the jungle since the whole movie is centered in the fertile heart of Africa." But, if you don't want to go that specific route, there are some even easier ways to make the Black Panther party one the kids will remember, and most importantly, manageable for you.
The Decorations for a Black Panther Birthday Party
Yes, Wakanda, the fictional African country the Black Panther rules over is supposed to be in Sub-Saharan Africa. A big portion of the movie is all about T'challa getting control of the throne, so you can try out some tribal mask decorations like these murals.
Wakanda is also 'techno-jungle' — a mysterious place filled with wild animals and high tech gizmos. Dim the lights and string fake cobwebs between inflatable palm trees, with a few plastic spears on the walls.
You can also include life-size cutouts from the Marvel movies because most of the Avengers (maybe not Iron Man) are friends of Black Panther, and thus, totally invited to the party. If you really want to go all out, rent a fog machine to turn part of your house into the deep jungle. But don't get too crazy — bringing sand, hay, or dirt into the house will create a cleaning problem for months.
Party Favors for a Black Panther Birthday Party
The Black Panther is a king, so provide your guests with gold crowns they can decorate during the party and wear. Don't forget to get a special crown for the birthday boy or girl. To make it easy, here are 12 crowns for $7.00.
Black Panther also wears a pretty iconic "tooth" necklace, which you can find pretty easily at costume supply stores. Here's one for $10.00, which could potentially be reserved just for the birthday kid.
Also, because Black Panther is a superhero, superhero masks are an easy party favor. Here's a great assortment of 20 for $15.99 that includes a few extra Black Panther masks.
Activities for a Black Panther Birthday Party
What conveys the jungle better than tribal tattoos and fierce face paintings? If you can afford it, hire a professional to run a station where the kids can customize their looks. It keeps them busy and out from underfoot. Probably best to avoid getting one that looks like an actual panther since it might remind some kids of their adorable kitty back home, and watching it get battered might bring a few tears.
Food for a Black Panther Birthday Party
"You are dealing with the jungle here so really the only limit is your creativity," says Zutman. "The Internet is loaded with fantastic recipes related to Africa, I find Pinterest very helpful. Type in BlackPanther party recipes, for parents the Vibranium Punch makes the party fun, and the kids love the Berber Spiced Popcorn."
But, if you want to go a little more simple, there are cupcake toppers featuring all the characters from the movie; here's 24 of them for $8.79.
Plus, you can never go wrong with cookies, and luckily, there a great Black Panther cookie-cutter for just $12.99.
This article was originally published on