How to Take Your LEGO® Building to New Heights, According to Real-Life LEGO Masters
How do you become a real-life LEGO Master? Skill. Practice. Failure. Obsession. Any questions?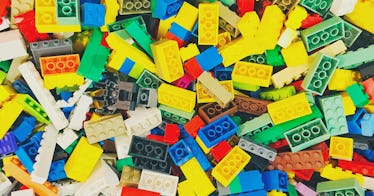 This article was produced in partnership with LEGO® Masters, premiering Wednesday 2/5 on FOX (9/8c). To learn more about the show, click here.
There are shows about baking cakes, blowing glass, and other creative pursuits, but until now the talented LEGO builders of the world — everyday people who are LEGO artists, engineers, architects, and masons at home — have gone uncelebrated, at least on American television. Fox's LEGO Masters is fixing that by showcasing the talents of 20 of the best LEGO builders in the country, chosen for their expert experience, building prowess and straight up love of LEGO. Bonus: It's hosted by funnyman, dad, and, yeah, the voice of LEGO Batman Will Arnett, who no doubt has spent some time playing LEGO blocks with his two boys.
The show is filmed in a workshop with over 3 million pieces where each week the pairs of contestants complete themed challenges designed to test their creativity and engineering skills, with their builds judged by professional LEGO designers.
Of course, there are way more than 20 LEGO masters around. The bricks are so popular that there's probably a LEGO master in every neighborhood in America, which means there are plenty of folks out there who have unique tips, tricks, and insights for those who want to up their LEGO design and construction skills. Some of them were gracious enough to share their tips and tricks with Fatherly.
The Builder: Adam Jacobs
Jacobs might just be the busiest dude in Rexburg, Idaho. He's the campaign manager for Powerblanket industrial heating, a father of three — Olivia, 5, Clara, 3, Owen, 2, and Caldera, 4 months —and a contributor to The Brothers Brick, one of the most popular building blogs on the internet. He has some impressive builds under his belt and says he's learned the same lesson Will Ferrell learns at the end of The LEGO Movie: "bricks are for playing with!"
Noteworthy Builds: Last year, I built a three-by-one-foot diorama of a Star Wars-themed World War I trench battle. It was massive, involving thousands of pieces and nearly 50 Minifigures.
Pet Peeves: My pet peeve is people who put their LEGO sets on a shelf and never touch them. Everything I build is playable (also known as "swooshable" in the LEGO community). My kids can play with them whenever they want, and because of that freedom, they handle the sets very well. The best way to engage my kids' imaginations is to allow them to play. They can't do that if what they built is gathering dust on a shelf.
What LEGO Family Time Looks Like: We play with LEGO bricks together nearly every day. I usually build a big spaceship, castle or city, and my kids help here and there. When it's finished, they play with the whole thing as long as they like. Playing together with LEGO is a bonding opportunity for my family. We can combine our imaginations to tell stories, express emotions, and even build gifts for other people. Pro Tip: Organize your bricks: if you don't have much space, sort what you have by color. If you have a lot of space, sort bricks by size. It makes building so much easier when you only need to look in a small container for a specific piece than digging through a giant bin.
The Builder: Dave Racine
When Dave Racine's kids Noble, 5, and Felix, 2, get into the toy room of their Milwaukee home they usually find a small LEGO surprise built and left for them by dad, like a custom-built LEGO car or truck. Racine rediscovered the joys of LEGO bricks when he had kids, and as a self-described "jack of all trades," he tries to do a quick build for them nightly. For him, LEGO bricks are storytelling toys and a great way to connect with them.
Noteworthy Builds: For the holidays, we custom-ordered minifigs to resemble the Racine family and over the course of three nights assembled the 1,447-piece Gingerbread House (pictured).
Lessons Learned: We're lucky to have a playroom with boxes of bricks, and we often find ourselves laid out on the floor. Kids love to play on the floor, but it's much harder for parents to get comfortable kneeled down for long periods. So, make sure to schedule breaks.
What LEGO Family Time Looks Like: We try to keep our LEGO build projects in the playroom. It's overrun by toys of all sizes, but the carpeting is also dotted with rogue LEGO bricks, mini figureheads, hands, and torsos. Felix, the youngest, likes to disassemble things more than build things, so as a family, a few nights a week, we team up and each picks up fifteen pieces to put them into a bin.Pro Tip: Start with a story in mind. What happened during the day and what's the thing you can build quickly to be a part of that story. Did it snow? Build a snowplow. Did the kids make their own pizza for dinner? Build a pizza delivery car.
Racine and Jacobs are just two of the countless LEGO masters around the world. To check out more, tune in to LEGO Masters, premiering Wednesday 2/5 on FOX (9/8c). To learn more about the show, click here.
This article was originally published on