How to Stream the New Batman Podcast On HBO Max — Is It Worth It?
The latest Batman adventures are audio only, but they are...hilarious!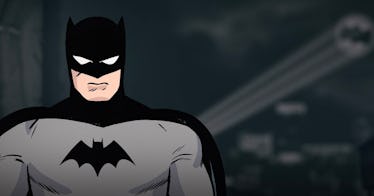 Credit: HBO Max
What's that you say? There's a new Batman podcast? And it's on HBOMax — like the streaming platform? Well, cool! But, how do you watch it — I mean listen to it?
Maybe like us you kinda forgot that Batman: The Audio Adventures was coming our way. I'm a deep Batman fan, and I love the renaissance of innovative fictional audio storytelling happening now: Welcome to Nightvale, Homecoming, The Adventure Zone, The Truth–and Audible's The Sandman. And the cast is stellar: Jeffrey Wright as Batman, Rosario Dawson as Catwoman, and John Leguizamo as The Riddler, Brent Spider as the Joker, plus appearances by Brooke Shields (Vicki Vale), Seth Meyers (Jack Ryder), Kenan Thompson (Commissioner Gordon), and more. So I was surprised that this new Batman deal fell so soundly off my radar.
So when I remembered, I was excited. But right away this podcast proved, well, a little hard to listen to. The new podcast is (mostly) only available only on HBOMax.
We're here to walk you through how to give it a listen, and also to answer the question: is it any good and worth all the trouble?
How to Listen to Batman: The Audio Adventures
The easiest thing to do is to just watch the first two episodes that have been posted to YouTube. They're up there for the moment as, well, videos. You can also stream the first two episodes on some regular podcast apps, like the Apple Podcast App.
However, if you want to listen to all 10 episodes in the podcast series, you need HBO Max. I thought I'd be all set to listen as I have HBOMax through Hulu. But, no: you can't stream it on your TV or laptop. No: you need to download the HBOMax App onto your phone or tablet from your app store of preference. Once you've got it downloaded, then you can connect it to your account (they make it relatively simple to do so, even if you, like me, purchased HBOMax as an add-on to another service).
From here, search for "Batman: The Audio Adventures" (or from the main menu scroll down and click on the DC icon). And you'll be all set…to watch/listen to your podcast.
A podcast that's not quite a podcast
Yes, weirdly, the creators of this podcast elected to offer their audio podcast as a video experience. Instead of the expected listening experience on Apple or Stitcher, when you click on Episode 1 you are taken to a streaming video. This makes some kind of sense given the context of the HBO TV/film hosting context, but as a podcast experience, it's rather strange. You can connect to Bluetooth speakers in the house or car and listen to them that way, of course, but the basic format and interface seem unnecessary and unhelpful.
The producers try to make the experience feel coherent. The video we watch is of an old-fashioned radio atop a desk, where the background changes to evoke the setting of different parts of the story. It's kinda fun in its way–but I really don't know who the audience is that is going to sit for 35 minutes and "watch" a podcast.
Is it any good?
If you can get past the access and format, you will find some fun Bat-moments in the first episodes. The cast is totally fire and hilarious. Jeffrey Wright as Batman is an inspired choice. Wright feels like Batman in a way that Ben Affleck never did–even if the podcast's writers haven't quite found the core of this version of the character. The best bit of Episode 1 is the vignette where we eavesdrop on a local goon applying for a job with the Joker: it's the best translation of the comics-feel into the audio format.
That said, the first episode is a bit disjointed. The mash-up of Golden Age of Radio-vibe with Batman 1966-TV camp with bits of the wonderful 1990s Batman: The Animated Series just doesn't always work, except when it does. When it does, it's great. When it doesn't, it's just a bit slow. The podcast is presented as a sort of old-style radio show with short scenes and bits of story interspersed with in-world Gotham City advertisements and news clips. Threads are picked up in later episodes, and the second episode is 100 percent an improvement over the strangeness of the first.
So: if you're a Batman completist, you'll want to give it a listen–you'll find some fun little deep cuts into DC story canon. But, if it's Batman you're after, it's never a bad time to re-watch The Animated Series (also on HBOMax)– or go read Scott Snyder's run of Batman comics. Those are both a delight, and fully make use of their medium — animated TV, and comics. Of course, you could also just wait for Robert Pattison's The Batman, where we'll get to see how Jeffrey Wright inhabits the role of Commissioner Gordon.