Turn Anywhere Into An Observatory With This 3-Step Guide To Stargazing
To infinite kid distraction and beyond!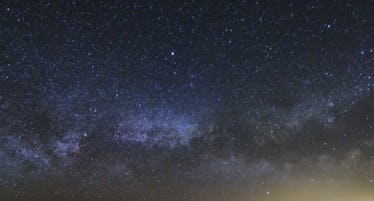 Created in partnership with GMC, inspiring families to make the best of every moment. For more advice on fun stuff to do with your kids, from ridiculously overqualified experts, check out the rest of our 940 Weekends.
Stargazing is the ultimate activity to do with your kids. It's free, available everywhere, and offers an endless supply of beauty, mystery, and wonder. It literally only has 2 requirements: a clear, dark sky and the ability to look up.
You don't have to be an astrophysicist to enjoy the infinite cosmos with your kid, and if you don't believe that, just ask one. Brian Koberlein is a father, RIT professor, and yes, astrophysicist with a simple 3-step process you can follow to start stargazing with your kid. Those experiences, he says, will shape them far beyond their future ability to crack up a campsite with some well-timed Uranus and Big Dipper zingers.
"When people truly stand under a night sky for the first time, it's transformative," he says. That doesn't necessarily mean a few glances through the looking glass will turn your kid into a mini-Professor Koberlein (that's not even how it worked out for Professor Koberlein). What it does mean is your kid will be inspired to pursue whatever fills them with a sense of wonder, which they'll carry with them to infinity and beyond, as they say. They still say that, right?
This article was originally published on