5 Tips For Saving Money on Flights When You're Traveling With Kids
It all starts with knowing when to book that ticket.
by Jesse Neugarten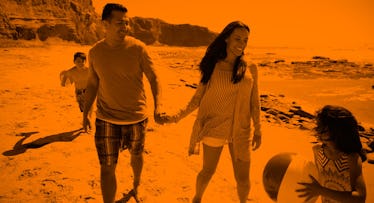 The following story was submitted by a Fatherly reader. Opinions expressed in the story do not reflect the opinions of Fatherly as a publication. The fact that we're printing the story does, however, reflect a belief that it is an interesting and worthwhile read.
Flying with kids can be a challenge ⏤ this is no great revelation. It's also not cheap. Once a baby crosses that 2-year-old, free-ticket threshold and has to pay for their seat, family vacations and trips home to visit grandma become decidedly more expensive ⏤ especially at the holidays. But there are creative ways to save thousands of dollars on cheap flights and, as a travel specialist, I've spent the past few years helping families do just that. Here are my five secrets to paying less for airline tickets when traveling with kids.
1. Know the best time to book your flight
Airfare prices are often seasonal, and booking in advance almost always saves money. But how far in advance? A recent study found that, on average, the best time to book a flight is 54 days before your departure. So if you're flying home for the Thanksgiving holiday, you're best buying in early October, if not late September. For Christmas, aim to book your flight 83 days before the holiday. That's when the data suggests ticket prices are around their lowest.
As for other season trips, the numbers recommend you book 69 days ahead of your fall leaf-peeping trip, 62 days ahead of your non-holiday ski vacation, and 90 days ahead of spring break. And if you're already planning your summer vacation, you'll want to buy those plane tickets during the last week of April ⏤ you will save 12 percent. Mark your calendar.
2. If you're flying internationally, don't forget to ask for a kid discount
While most U.S. carriers don't offer discounts for kids, it never hurts to ask. Southwest Airlines, for example, does offer select deals for children age 11-and-under on some flights, but they don't advertise them. If you're flying internationally, however, you can score cheaper tickets if you avoid American carriers ⏤ traditionally, they only offer a 10-percent discount for lap babies under 2-years-old.
For children between 2-11-years old, these international airlines offer 50-75 percent discounts:
Air New Zealand: 75-percent of adult fare in economy
Cathay Pacific: 75-percent of adult fare
Emirates: 50-percent of an adult fare
Japan Airlines: 75-percent of adult fare
Singapore Airlines: 75-percent of adult fare
Virgin Atlantic: 75-percent of adult fare
The rule of thumb here is to always call the airline directly and ask for these discounts since they won't advertise them directly online.
3. Use the right search engines
If you want to find the best flight deals, not all search engines are created equal. Start with Google Flights. Double-check your fares at Momondo. And triple-check them at Skiplagged. That's the ticket to getting the cheapest ticket.
Google Flights: Always start with Google Flights. It's the best search engine in the business for a few reasons, but mostly because their handy calendar tool lets you find the best travel dates for your route, by locating the dates with the lowest fares. Make sure you browse the calendar view up to nine months ahead so you know the cheapest time frame to travel and then narrow down on the dates you want. Keep a tab on the price you found.
Momondo + Skiplagged: Re-enter the itinerary you found in Google Flights on Momondo and hit search. Momondo almost always brings back the absolute cheapest fares, even cheaper than Google Flights a lot of the time. After that, run them through Skiplagged as a final safeguard to ensure you don't overpay.
4. Be flexible with your seat assignments
Choosing where you sit on a flight might seem like an obvious convenience, but there's one problem: Many airlines charge for this luxury. While you certainly don't want your kids scattered across the plane sitting by themselves, think twice about trying to book five seats next to each other. Booking two together in one aisle and three together in another might be the cheaper option.
Also, a word to the wise: Think twice about booking basic economy tickets. While they're likely to be your cheapest option, they come with a number of downsides for families. Seats aren't assigned until the last minute, so you'll generally have to board the plane last — assuming you don't get bumped off the flight. Basic economy ticket holders aren't eligible for upgrades or ticket changes, either.
5. Pack lightly
And finally, a family of four who checks their luggage is tacking an extra $200 on to the price of the flight. You can reduce your travel costs by packing as lightly as possible — within reason, of course — and consolidating bags. Put all of your kids' clothes in one bag and share a suitcase with your spouse. All of a sudden, you're checking two bags instead of four, and you're saving $100 on each flight.
Jesse Neugarten is the founder of Dollar Flight Club, where he has helped 500,000 people find cheap international flights. Originally from South Africa, he now lives in rainy Seattle, Washington.
This article was originally published on