How to Raise an NFL Player: A Conversation with Larry Fitzgerald Sr.
Larry Fitzgerald Sr. on raising one of the most recognizable stars in the NFL.
by Jonathan Lehman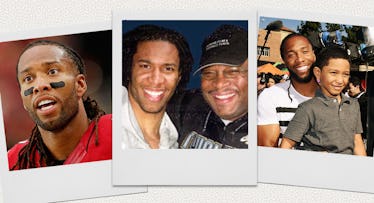 GETTY;www.larryfitzgerald.com; GETTY
For the 2017-18 NFL season, Gillette is partnering with select fathers of NFL players and Fatherly to celebrate the proud moment when a player steps onto the professional football field for the first time, and the hard work and dedication required of their families. Because the big days in a child's life are big days for the countless people who have stood beside and behind them. Through "His Big Day" Gillette is reminding all of us that no one accomplishes great things alone and, when greatness is achieved, it's a proud moment for everyone who's helped along the way.
It's safe to say Larry Fitzgerald Sr. is a proud parent. His son is one of the most recognizable stars in the NFL, his signature dreadlocks peeking out from under his Arizona Cardinals helmet as he adds to his more than 1,150 catches in his 14-season career, good for the third-most of all time. His accolades don't end on the field. He's well known as one of the league's most caring citizens, winning the NFL Man of the Year Award in 2016 for his charity and volunteer work. How did Larry Fitzgerald Sr., a longtime sportswriter based in Minnesota, raise such an outstanding athlete and citizen? For starters, he encouraged healthy competition, stressed schoolwork, and pushed an engaged role in the community to make sure his sons — he has two — were focused and goal-oriented in all aspects of life. "That's what being a parent is," Fitzgerald told Fatherly in a recent interview.
When did you realize that you had an exceptionally gifted son in sports?
I recognized Larry had talent when he was 9, 10 years old. As I watched him grow, he could run, jump, all of it. I could see he was gifted. So was my other son. I knew he had some tools. When he was 10 years old, I think it was at a little football game organized in Minneapolis, where I saw him playing with pads on for the first time. I saw that he didn't have fear, like a lot of youngsters do, of contact, or of getting hit. That's one of the first hurdles to being able to play and play at your best — you have to go out there and not be scared or apprehensive.
What was it like to see your child walk onto a professional field for the first time?
It was an unbelievable experience. It was good to know that all those hours and time spent talking to him — about how you have to think about what you're doing and to be mentally committed to it — that he was able to have that materialize to be in the NFL and fulfill his dream.
Did he know how powerful that moment was for you, as his dad?
I think he did. We never sit around and talk about it, though we embrace it and have recognized how quickly he climbed the ladder. But Larry's been good for a long time. And he started out at an early age of 10 years old. I could see that he was gifted. So, from that time on, we just made certain he stayed on the path and he was able to stay committed to picking up on everything he was able to absorb over the years.
Do you have a proudest moment of Larry, on or off the field?
There's so many of them with Larry, I can't say there's one that stands out. If he set a goal to do it, I was happy that he achieved his goal. Because that's what we taught him early — how to set goals. And then once you set a goal, write it down and then go and try to get it.
You actually encouraged him to have a set of written goals and to cross them off as they were accomplished?
Yeah. I play chess, and so I taught him chess. And I taught him golf. He knows I believe in very simple goals: How many fairways did you hit? How many greens did you hit? How many putts on the greens? It's just little small things that you do repetitively when you play golf and while you're learning the game and learning how to swing and how to get up and down when you're around the greens or out of a bunker and managing your way around the golf course. The things you have to keep track of that let you know where you need to work on the game. That's something I've always believed in. They're small things, but they're things that kind of lead you to where you need to work on the most and show improvement in your game.
Do you consider yourself to be his biggest fan?
I call myself an advocate of Larry's. Just someone who has tried from a parenting standpoint to make certain that he understood what was important to me and to his mother, who — you know our story — passed away in April of '03 of breast cancer. So, that was something that's always been important to me. I have been successful for a long time as a writer, as a reporter, as a talk show host, as a producer, and I wanted him to understand that I value the name Larry Fitzgerald, and he has my name, so don't get graffiti on it. And he's been overwhelming in the sense that I get so many compliments, I don't care where I am, somebody takes the time to let me know, "Wow, you guys did an incredible job with him because he's special, not just as a player, but as a person."
What was the hardest part of being a dad to an exceptional young athlete?
Well, there are challenges to being a parent, period. Things aren't always going to go smoothly. Football, basketball, what they had to do in the classroom at home — it wasn't really any waiting for something to fall out of the sky, you just made certain they stayed in the process of doing what you had laid for them to do. Everything else, if it happens, it happens.
How did you help your kids balance school while being committed to sports?
It was just a consistent establishment of what was handed down to me by my parents. My parents did not get the opportunity to go to college — they told us that and they stressed education. I did the same thing with my children: stressed education, going to school, doing well. And when they didn't — fell behind or didn't go to school — they got disciplined. We got on 'em about it. That's what being parent is: Keep a close eye on what your children are doing, reward them for the successes, and remind them when they don't do well, that they have to do better. And if you do that, and you're consistent at it, sometimes you get lucky. I think we got lucky.
Was there teaching around finding that right balance of being aggressive on the football field and turning that off once they're off it?
No, I just think they're just born competitive. They were competitive with each other, they're only two years apart — Larry is 34 now and Marcus is 32 — so they were always playing and competing with each other. It was great in high school to see them play on the same team. In pee wee football, they were on the same team. I think there was an inner competition between them. It always works that way. Brothers will always try to beat their brother. You compete with that. You eventually get on a team and you play well for your team, if you're the best player on the team or one of the best.
All these parents go around having a parade every time somebody gets a touchdown or does something good. You just recognize that you're celebrating when it happens and then you move on. There's a winner and a loser, that's the thing. You teach them, there's a lesson learned in every victory and in every loss.
When does parenting stop?
He's an adult, he has two children, but being a parent, I'm still talking to them about what they're doing. 'How's work? How are the boys doing, how are they doing in school? Any challenges?' It's my good fortune that I'm able to get to go to a lot of his games and have been. So I'm able to keep in communication with him on a lot of things in his life. He's a long way from here being in Arizona, and me being in Minnesota, to be able to keep track of how my grandsons are doing and how he's doing, with his wife and where he is with his career and all that thinking, that's a real plus.
What message do you always want Larry to keep in mind in life?
The price that was paid at the beginning isn't any less as you get toward the end [of his career]. So just continue to have the passion to play and if you can continue to do that, things are going to work out just fine for you. I remember just watching some of the games around the league [this season] and there was a lot of physical activity that went on that was disappointing in terms of fighting and stuff so that wasn't good to see, I didn't like it. But the point is I just let him know "keep doing the right thing." Because we have a choice in that.
This article was originally published on