How to Raise an NFL Player: A Conversation with Chris and Solomon Thomas
"Some people wait their entire lives to meet their favorite player. [My wife] Martha and I raised ours." –Chris Thomas, father of NFL player Solomon Thomas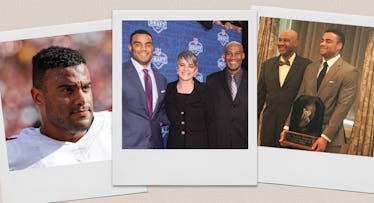 GETTY
For the 2017-18 NFL season, Gillette is partnering with select fathers of NFL players and Fatherly to celebrate the proud moment when a player steps onto the professional football field for the first time, and the hard work and dedication required of their families. Because the big days in a child's life are big days for the countless people who have stood beside and behind them. Through "His Big Day" Gillette is reminding all of us that no one accomplishes great things alone and, when greatness is achieved, it's a proud moment for everyone who's helped along the way.
Solomon Thomas' NFL debut this past September was one of the most anticipated of this season. It capped a meteoric rise for the 22-year-old former Stanford defensive end who became the No. 3 overall draft pick when the San Francisco 49ers handed him a jersey. Thomas wasn't always a can't-miss football prospect: his family remembers it wasn't so long ago he was the new kid from Australia on the soccer fields of Connecticut. How did a globe-circling childhood and a try-everything youth sports career culminate in NFL stardom? "I didn't make it here alone," says Solomon, "my dad's been a huge supporter through football and sports and life." Chris Thomas encouraged strong work habits in his son ("if you're not getting better, you're getting worse," was one household mantra) while placing a "non-negotiable" emphasis on education and being there in the bleachers to offer young Solomon a calming word when the games got tense. "Some people wait their entire lives to meet their favorite player," says Chris Thomas. "[My wife] Martha and I raised ours."
Your family moved around a lot when Solomon was a kid.
Chris Thomas: My company's job took me to a variety of places. Solomon was born in Chicago when I worked for Procter & Gamble and when he was about a year and a half, we moved to Sydney, Australia. When he was around 7, we moved to Stamford, Connecticut (he brought his Australian accent) and I worked there for about 4 years. We then moved to Dallas, Texas where we've been for the last 13 years — and where Solomon learned to play football.
You mentioned switching from swimming and soccer to football and basketball. Where did the athletic inspiration come from?
CT: My family — my father, myself, my brother — we're all sports freaks. It's an important piece of life because it helps you be a better teammate, be a better leader, it helps you out with adversity because you're dealing with wins and losses. Also, you have to work with all different types of people, and I think that's an important piece of life as well as being an athlete.
At what point did you start to gravitate toward football?
CT: I think it was sixth grade when Solomon started playing football [Solomon Thomas: "fifth grade"], and he was so huge at the time. It's funny because he was born two weeks premature — he was like three pounds, and you look at him now …. By the time we came to Dallas, he was bigger than most of his peers and everyone kept saying, "You've got to play football." So, we signed him up to play youth football, and he just kept getting better and better at football and getting bigger and bigger as well.
When did you have a full sense of Solomon's abilities?
CT: It probably was ninth grade year when one of his coaches came up to my wife, Martha and said, "Your son has great potential. He'll end up being an NFL player. Be ready, there are going to be a bunch of college recruiters; he'll be playing on Sunday." At that point in time, I didn't believe him. The following week, Solomon is just dominating on the field — sacks and tackles and just how he was able to lead on the sideline as well. And that's when it sort of crystallized for me.
ST: I'm different in that I'm very hard on myself. In high school, I was blessed with amazing coaches. They always were hard on me, they were always getting after me to work hard, put in extra work, all that kind of stuff, and when it came to game day, if I had a good game, I looked at it as that was expected. But I saw it, probably by my sophomore year was when I realized I had a chance to play in college. Everybody said I had a chance in this sport, and this sport has brought me so much.
Playing youth sports at a very high level can be very demanding on a family. What was the hardest part of managing those years?
CT: The hardest part is making sure they got through all their lessons and all their sporting events. Solomon was blessed with an unbelievable mother. I worked and traveled a lot and she didn't work outside the house at the time. So, she took Solomon and Ella [Solomon's sister] to all of their tutoring, did a lot of private coaching, she took care of all that for Solomon. We also helped them stay focused on doing positive things, and we've been blessed to have both of them be great kids. Outside of football, they're just unbelievable human beings.
What was the biggest sacrifice as a parent to support Solomon in pursuing his dreams?
CT: The time it takes to travel to different places and games, if you want to call it a sacrifice. I prefer calling it a blessing because it was really powerful for them to participate in sports. We really enjoyed going to practices and games, meeting different parents on our teams as well as competing teams — these people are friends for life.
Solomon went to Stanford, I'm going to take a leap and say he excelled in the classroom. What were the lessons at home around balancing academics alongside sports?
ST: The emphasis on education and always being after your studies was huge in my household. I remember times that if I didn't do my summer reading or didn't do something I had, my parents wouldn't let me go to basketball practice. There would be consequences for not taking care of your academics. It wasn't always cake for me. But my parents always stayed on me. Whether it was to make flash cards, do extra reading, start tutoring with my teachers, they made me make sure education was huge. It's just the way of the world.
CT: Education was the number one priority. I'm the first person in my family to go to college, to graduate. I want to make sure my kids do the same thing because education is the most powerful tool in the world.
What were you thinking and feeling ahead of Solomon's first NFL game when your son was about to be an NFL player?
CT: I still pinch myself. Thinking from the time of his last game at Stanford against Rice in the rain, the Sun Bowl in El Paso, to the combine and the draft, being in the green room and hearing his name be called from John Lynch and Kyle [Shanahan] and Mr. York, and then just seeing him play against his teammate and roommate Christian McCaffrey against Carolina, I'm just really impressed and fortunate and happy that Gillette was able to film that day. It's a day I'll always remember.
Did you have a sense of how powerful that moment was going to be for your dad or how emotional that day was for him?
ST: You know, at first, I didn't have a sense for it. To me, the big day of my first game — this is a dream come true. I thought it was just awesome to see how my parents get nervous, how they can worry or get anxious, get excited off the field. Through my whole life, my parents have been there for me. And my dad's been a huge supporter through football and sports and just life. I didn't make it here alone, and I wouldn't be here without them. Everything I've achieved is because of them.
Did it take you back to when you were a kid or earlier in your career and give you a new perspective on the emotions and some of the anxiety your parents were feeling then?
ST: It definitely did. When I was serious in basketball on my AAU team, you know, my dad played basketball in college and he was a great player — I don't know if he'll ever admit it, but he was — and whenever I got flustered or worried on the basketball court, I would always look at my dad, and mouth, like, "What's going on?" Whenever I was having a bad game or something, he would always calm me down and look at me and nod his head and say, "Calm down." So, it definitely brought back a lot of memories. It's been a long journey and I wouldn't be here without them and it's a blessing to have them here.
Is there any lesson or mantra from your dad that gets in your head when you're on the field or in a trying moment?
ST: "Always be your best." That was huge for me. My dad was always telling me to be the best, whatever I am in life. Be the best person in the classroom. Be the best person on the field. Be the best person you are outside the field. Be the best person you are to your parents, to your brothers, to your friends. I feel like that was what keeps me striving.
Do you consider yourself Solomon's biggest fan?
CT: Absolutely. It's just amazing to see him play his first NFL game and to continue to see him play. We just came back from Chicago on Sunday, and just seeing him compete among the most accomplished people in the football arena is just impressive. He's doing a great job and he'll continue to get better and do well. It's just an amazing dream come true. I think the best day of my life was seeing him succeed from college to being in the NFL to continue to compete and do amazing things. Some people wait their entire lives to meet their favorite player; Martha and I raised ours.
This article was originally published on