This Gamer Dad Raised His Sons on Mario and Now They're Bonafide Game Reviewers
Here's how a child of the 80s introduced his digital natives to the essential characters and games.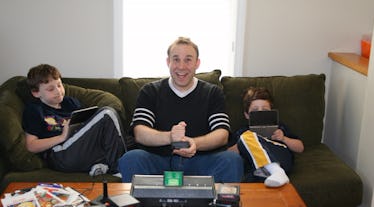 The following was produced in partnership with our friends at Nintendo and features games playable on the Nintendo 3DS system, perfect for playing your favorite games any place, any time.
Men of a certain age can break apart their childhoods into stages based on gaming consoles. There were the "regular" Nintendo years, the Super Nintendo years, the N64 years, and then the hyperactive weirdness of Wii. They passively, but enthusiastically tracked the evolution of an art form. Now, many of them are giving their kids a crash course in that history, side-scrolling with them through dungeons and tubes, going from two dimensions to three, and swinging controllers to play a virtual game of tennis. It can be hard to find the time, but Andrew Kardon, the gamer dad behind the popular site Mommy's Busy, Go Ask Daddy, has strategies for early childhood video game education: He focuses on the classic Nintendo characters.
Kardon is a child of the 1980s, a former editor for Wizard Entertainment, and the father of two boys, 11 and 14, who not only teach him about new games but also nerd out with him about the old ones he loves. They bond over one particular mustachioed character, Mario, who was originally dubbed Jumpman.
"When Jason was about two, we were at my sister-in-law's house, his older cousins were playing Mario Kart: Double Dash!!, and he sat there, wide-eyed, staring," says Kardon of his oldest son's introduction to gaming. "Of course, we went and bought it. He would sit on my lap and I would play and steer and he would push the buttons to shoot turtle shells and activate Super Mushroom boosts at the absolute worst times. I loved it."
From then on, Jason and his dad bonded over a shared love of Mario and exploring the Mushroom Kingdom. Beginning with age-appropriate, family-friendly titles like Mario Kart 7, Mario Party Star Rush, and Mario Super Sluggers, Kardon took his sons on a guided tour of the Super Mario universe, treating the whole thing as a giant road trip.
"Those games are big but have so many mini games for little kids to play," Kardon says. "They introduce so many characters."
Kardon was eager to have his kids appreciate the games on a deeper level, by understanding the world-building and character-building that went into making them. So he decided that he would really explore the backstories of five classic Nintendo characters: Mario, Luigi, Peach, Toad (Jason's favorite), and Donkey Kong. His kids were immediately drawn in.
Once the Kardon boys were familiar and comfortable with Mario and friends (plus Wario, "because you have to show them a bad guy," and Pikachu, because that was just inevitable) and got a bit older, Kardon says they encountered the game-changer: Super Smash Bros. They loved it. They beat the digital hell out of each other while laughing. But because they had learned so much Mario history, they didn't just see Smash as a game, but as the nexus of a number of narrative arcs.
"There were these characters from other games I didn't even know," he says. "My son would devour Wikis and video game sites and YouTubes. He just wanted to learn more."
Kardon was particularly excited to see Link from The Legend of Zelda franchise in the mix. Link would be the boys' entry point into open worlds, which Kardon sees as the ultimate destination for smart young gamers. They are full of characters and reward smart decision making. In a sense, they are more like life and increase in difficulty as you progress. Open worlds must be earned and, when they are, theirs is a tremendous reward: The opportunity to embody a beloved character.
It should come as no surprise that Jason went as Link for Halloween.
Kardon's intro to gaming worked so well that his kids are now fully fledged game reviewers and Nintendo fans themselves. They play games, sure, but they also respect them. They understand iteration. They understand how creative choices play out. They understand what a technology breakthrough looks like.
"The original Super Mario Bros. is just two guys fighting turtles. It's ridiculous," Kardon laughs. "But they still love to play it with me."
And that's sort of the whole point. Kardon's recommended game progression is fairly intuitive: start with family-oriented, character-loaded games like Mario Kart 7 or Super Mario Maker for Nintendo 3DS, move on to something more advanced and adventurous like Luigi's Mansion: Dark Moon, and, finally, arrive at open world titles like The Legend of Zelda: Ocarina of Time 3D. Ultimately, though, the particular titles are less important than the fact that parent and child play them together.
"When I was around 12, my uncle was at our house and we were playing some game that was neat for about two seconds. He was terrible. And he thought the game was terrible. But I didn't care. It was just cool sitting with him playing," Kardon recalls. "Now, I give that back to my son. And I'm sure he feels exactly the same way."
This article was originally published on