Intimidated By 'Ballers'? Here's How to Just Jump Right In
Don't worry about the other seasons, you can start watching now. Here's how.
by Jordan Obey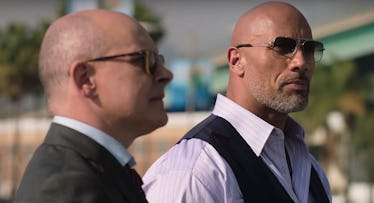 Leverage Entertainment
HBO's Ballers kicked off its 4th season last night, which is great unless it's been a while since you watched and can't remember what's going on. Or you've never seen a single episode and all you have is a vague sense that it's sports related and that, awesome dad 'The Rock' is in it. If that's all you know you're in pretty good shape honestly. But if you feel too far behind to pick up on this season and are worried you'd feel totally lost without a brief recap of the show or you want a primer so you can relax and start watching the latest episodes without having to binge the last 3 seasons, here are 5 things you should know for Ballers season 4.
What is Ballers About?
Ballers is backed by the same guys that created Entourage, and it feels like it. As the stylistic heir apparent to the show which dove head first into the sex and drug-addled world of Hollywood's elite class, Ballers revels in the glamorous and the seedy. Only instead of Hollywood, the show's about the professional sports world. Dwayne Johnson plays Spencer Strasmore, a retired NFL player whose found new meaning in his life by becoming a financial advisor to other NFL players. By dealing with hot-headed athletes, ruthless businessmen, and his own checkered past, Spencer learns that unlike football, life has no rules.
Spencer said "No" to Vegas
In season 3 we were introduced to Wayne Hastings Jr, a Las Vegas Casino tycoon played by Steve Guttenberg. For the first half of the season, Wayne was a friend to Spencer and company and all seemed to be going well as they planned to bring the Oakland Raiders to Las Vegas. But, Wayne decides to leave everybody high and dry and made a bid for Vegas by going into business with a shady group of third-party investors. Wayne's betrayal backfires though and the third party group instead decides to go with Spencer. The only problem is that Spencer stopped thinking the Raiders in Vegas is a good idea, feeling it would be a betrayal to the fans, so he walks away from the deal.
Ricky's a Dad Now
John David Washington (Denzel Washington's son!) plays Ricky Jarrett, one of Spencer's clients and a hot-headed womanizer. This season, he found out he's going to have a baby. And though he's patched things up with the baby's mom, Amber, it's unclear how their relationship will develop going into the next season. He ended the season announcing over Instagram that he's retiring from football to focus on being a father, which should probably be taken with a grain of salt.
Charles is the Ram's General Manager
Spencer's client Charles Greane, played by Omar Benson Miller, might be the most stable character on the show. No longer playing football, he has a wife and kid that love him, and he's focusing on making it in the world of non-athletes which took him from car salesman to talent scout for the Dolphins, and now the General Manager of the Rams. It's the most responsibility he's ever had to shoulder, whether or not he can handle it is anyone's guess.
Season 4 is in LA (Oh, and Russell Brand is In It)
Now that he's not going to Vegas, Spencer announced to his financial management team that the company's going to expand beyond Miami. Which means fancy new offices, specifically fancy new offices in Los Angeles, where the fourth season will take place. Now on the west coast, Spencer's will be introduced to the new world of business, one where startups rule and CEOs look like rock stars. Case in point, the new season has Russell Brand. He's going to play the head of a media company that specializes in extreme sports, a huge contrast to Spencer's old school style.
Ballers airs Sundays at 10 pm on HBO
This article was originally published on