How Parents Can Save Money on a Disney Trip
Parents can find discounts for Disney properties with a little thoughtful shopping, but they need to be wary of trip-killing scams.
by Matthew Utley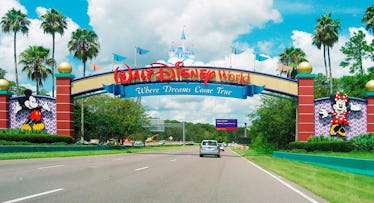 Getty
A trip to Disney is a rite of many childhoods, but the popularity of the theme parks means it's an expensive investment for parents, and cheap Disney tickets are almost impossible to find. So, while tickets to Disney theme parks themselves are already expensive, when airfare, lodging, food, and incidentals are added to the cost of, a trip to Disneyland (or World) can reach $1,000 to $5,000 per person. Luckily, with a little planning, there are a few options to help save parents money and a little sanity, too.
Brittany DiCologero is the author of two books about Disney Parks runs a Disney blog and works for Celebrations magazine. She knows the tricks for cutting cost at Disney but notes that the discounts usually don't get very deep.
"Unfortunately, there is really no way to get 'cheap' Disney tickets. If you see a deal on Disney tickets that seems too good to be true, it probably is," DiCologero explains. "Tickets sold by individuals may have some days used on them or may be tied to another person, making them unable to be used by you. So while saving money on tickets would be great, I would caution against going through individual sales or sites like eBay or Craigslist."
How to Get Cheap Disney Tickets
Avoid eBay – sites like eBay and Craigslist may feature impressively cheap tickets, but if they've already been used or tied to another purchaser, they probably won't be usable.
AAA Memberships – purchasing through AAA can save up to 10% off the cost of the ticket.
Gift cards = de facto discounts – since Disney tickets can be purchased with Disney gift cards, purchasing those when major retailers offer promotions can save up to 5%.
Volunteer for a free day pass – Disney occasionally offers programs that reward community volunteers with a free day pass.
Shades of Green – Disney offers promotional discounts for military personal, and the DOD runs a resort right on the Disney grounds.
Not all is lost for the thrifty traveler, however. There are legitimate third-party websites that sell discounted tickets, such as Undercover Tourist, airline websites and official tourism sites like Visit Orlando. Like many deals, there may be specific conditions – the promotion may be only available for a trip of a specific length, for example – but many discounts average around 10 percent.
Families can also save 10 percent by ordering through their AAA membership, suggests DiCologero. "You can do this online – just not last minute because they'll mail them to you – or in person at your local AAA office," she says.
Although 10 percent may not sound like big savings, it certainly adds up when calculated by per person per day – and the full Disney experience is a multi-day adventure. Vacationers can also save by keeping an eye out for discounted gift cards at major chains. Disney tickets can be bought with Disney gift cards, so using cards bought during sales or promotions is another way to save.
Sometimes vacationers can find deals through Disney directly, particularly if they want to stay in a Disney hotel. "Disney rarely offers substantial discounts – it does happen so it doesn't hurt to check – but if they do it's usually lumped together as a package with the hotel," DiCologero explains. "Check for ticket deals when purchasing them directly through Disney's site."
For families with active duty or retired military personnel, Disney occasionally offers military discounts. The Department of Defense also runs a resort on Disney property called Shades of Green that can offer better deals for eligible visitors.
Scheduling to avoid peak seasons is an effective strategy, but if families are attending evening holiday parties, they don't really need to buy an additional ticket to enjoy the park. "If you are attending Mickey's Not So Scary Halloween Party or Mickey's Very Merry Christmas Party, skip the park tickets for that day," DiCologero advises. "The parties do not start until 7 pm, but you can enter the park with the party ticket at 4 pm– so if you arrive early you'll have three hours in the park before the special event starts with only paying for the party ticket."
Occasionally, Disney offers programs where families can earn a one-day ticket to Disney by volunteering. Volunteering is frequently its own reward – but it doesn't hurt to save some scratch on the family vacation either. "This promotion is not offered all the time, but if you happen to see it, it's a nice opportunity to spend some time volunteering as a family and save money on your trip," says DiCologero.
This article was originally published on