Here's Why We Can't Stop Watching Star Trek: Prodigy on Paramount+
This post was created in partnership with Paramount+. ADVERTISEMENT Every so often, pop culture will hook families up with a true unicorn of a show that is as entertaining for parents as it is for their children. Star Trek: Prodigy on Paramount+ is exactly that. If the animated series isn't already a mainstay in your... View Article
by BDG Studios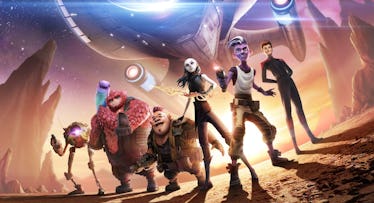 This post was created in partnership with Paramount+.
Every so often, pop culture will hook families up with a true unicorn of a show that is as entertaining for parents as it is for their children. Star Trek: Prodigy on Paramount+ is exactly that. If the animated series isn't already a mainstay in your household, there are plenty of reasons that you and your little ones should start streaming it as soon as you possibly can.
The Star Trek franchise has long had a mission to serve as a socially responsible destination for fans from all walks of life, so there's a solid chance that your kids have already found comfort in one of its many titles. With that said, Star Trek: Prodigy is the first installment to be created specifically for younger audiences, which is super exciting.
Star Trek: Prodigy is a CG-animated series that follows a motley crew of six young aliens who are navigating the greater galaxy (and adolescence) as they attempt to create a better future. Within the show's premise lies another major first for the Star Trek franchise: These hilarious, relatable outcasts know absolutely nothing about the USS Protostar, the ship they have commandeered. Throughout their adventures, the Protostar crew learns about the principles of Starfleet, such as acceptance and peaceful exploration.
This animated series is a great opportunity for parents who are fans of Star Trek to introduce the young ones in their lives to the Star Trek universe, but it's also the perfect way for families who are new to the franchise to develop an appreciation together. In addition to its exciting storylines and exciting new premise, Star Trek: Prodigy is a particularly exciting entry point for new fans because of the exclusive content available to viewers on Paramount+, from behind-the-scenes videos with the cast to special, educational clips. For example, the Star Trek Explained series features stars from the show who provide information about the franchise and its history, like Brett Gray giving viewers a primer on Ferengi, an alien species in the Star Trek universe.
For a preview of Star Trek: Prodigy, check out the official trailer, below. To stream the series, which releases new episodes on a weekly basis, subscribe to Paramount+.