Here's What Really Happened to Neil Armstrong After 'First Man'
He accomplished a lot after Apollo 11.
by Alicia Kort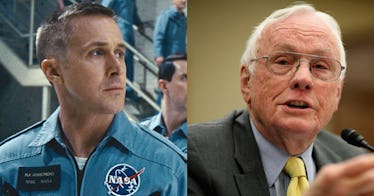 Universal Pictures
First Man brings the tragic but inspiring story of one of America's greatest heroes to life. Neil Armstrong was the first human to walk on the moon and uttered perhaps the most quotable quote of the 20th century: "That's one small step for man, one giant leap for mankind." Out this weekend, the new film First Man finds the legendary astronaut is portrayed by Ryan Gosling. The movie tells Armstrong's story from his days as a test pilot in 1962 up until Apollo 11 safely landed back on Earth in 1969. But Armstrong was only nearing his 39th birthday after the moon landing. His story doesn't end there. What happened after the credits roll? A lot.
(Warning, mild spoilers for First Man ahead.)
The final scene of First Man shows us Armstrong and his wife Janet separated by glass, dramatically pressing their hands together. But what happened next? First of all, Armstrong never went back to the Moon. In fact, Apollo 11 was Armstrong's last foray into space. After his historic first step, he hung up his spacesuit for good. He sons, Rick and Mark Armstrong, were still young, so he continued to help raise them with his wife Janet. He remained at NASA for two more years as the deputy associate administrator for aeronautics before deciding to pursue a career as a professor of aerospace engineering at the University of Cincinnati in 1971. He taught eager space enthusiasts for eight years and then went back into his field. He served as the chairman of Computing Technologies for Aviation Inc. from 1982 to 1992.
That period of Armstrong's life was tumultuous. In 1986 when the Challenger tragically exploded, Armstrong returned to help NASA in its time of need. He served on the presidential commission as vice chairman and looked into what caused this heartbreaking tragedy. First Man explores how Armstrong dealt with the deaths of so many of his colleagues in the Space Race, so there's no doubt that this was a difficult task for him to undertake.
In 1994, Janet and Neil got divorced after 38 years of marriage. In the film, it's no secret that Janet and Neil have a troubled relationship. He's not emotionally available, and Janet shoulders the burden of raising the children. Of course, this is a fictionalized movie, but it is based off Neil Armstrong's official biography First Man: The Life of Neil A. Armstrong by James R. Hansen.
He got remarried that same year to Carol Held Knight. Armstrong would live out the rest of his years with her. He stayed out of the limelight and avoided the press at all costs, but still stayed committed to space exploration. Armstrong even testified before Congress when President Obama canceled the Constellation program in 2010.
Neil Armstrong died on August 25, 2012, after complications from cardiovascular procedures at the age of 82, leaving behind an amazing legacy.
"For those who may ask what they can do to honor Neil, we have a simple request," His family said in a released statement. "Honor his example of service, accomplishment and modesty, and the next time you walk outside on a clear night and see the moon smiling down at you, think of Neil Armstrong and give him a wink."
First Man is out in wide release in movie theaters on October 12, 2018.