RXBAR Is Disrupting the Kids' Snack Aisle With a Surprisingly Simple Formula
Proof that a snack can be wholesome, nutritious, convenient, and tasty. No B.S.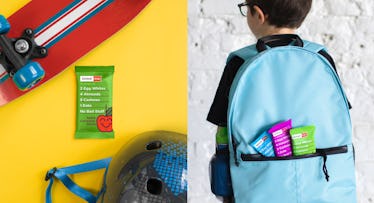 The following was produced in partnership with RXBAR, makers of whole food protein bars with clean, simple ingredients — and no B.S.
Snack time isn't easy. You want something fast, convenient, and nutritious. Your kid would prefer that it actually taste good. There simply aren't many options that fit the bill. That's why, when we got our hands on RXBAR's new line of kid snacks, RXBAR Kids, we were stoked. They're the real deal — a snack bar you don't have to hesitate to give your kid because you'd feel just as good about eating it yourself. We wanted to better understand how the bars are made and what makes them such a clever reimagining of what a kids' snack could be, so we called in the experts to take a look under the wrapper. What they found had us all the more stoked to stock our pantries, go bags, and glove compartments with RXBAR.
Melissa Wdowik is the Director of the Kendall Reagan Nutrition Center at Colorado State University. Wdowik says RXBAR Kids is a revelation because it balks at a false notion parents have come to accept as true: that a snack can't be wholesome. "It's okay to snack. We need snacks," she says. "But we need to escape the mindset that 'snack' means 'potato chips.' I like to tell parents to think of snacks as mini meals."
"A good snack will fit into a healthy meal plan. It should have fresh, real ingredients and be a good size that tides us over but, most crucially, does not derail the next meal," adds Lara Field, a registered dietitian and founder of FEED Nutrition Consulting in Chicago.
RXBAR Kids checks all those boxes by using a very small number of whole food ingredients that strike a balance between the three primary macronutrients that provide humans with the bulk of their energy: carbohydrates, protein, and fats. Of those three, the two that most make you feel satiated — protein and fats — are the toughest to get into a kids' snack, according to Gabriella Vetere, a registered dietitian nutritionist and founder of Macrobalanced by Gabriella Vetere, RDN. RXBAR is packed with both in the form of egg whites, a great lean protein that's easy to digest, and nuts, plant-based protein full of healthy fat, fiber, and other important minerals.
"There's a lot of soy and whey protein out there [in kids' snacks]; so many ingredients we can't recognize or pronounce," says Field. Wdowik says most of those other bars are nothing more than glorified cookies. Yet they're marketed and labeled for children.
RXBAR Kids doesn't employ such deception. One look at the bars' brightly colored labels immediately reveals what a child is about to ingest. On the front, a list of the core ingredients: egg whites, dates, and nuts. On the back, the ingredients that provide taste and texture, like 100 percent real cacao and coconut. Both emblazoned in oversized, bold font. That — save for a cartoon illustration of each bar's signature ingredient smiling deliciously and the promise of "No B.S." — is it.
"Parents can look at the label and know what's in it," says Wdowik. "It teaches them to think about and be aware of the actual ingredients, not just see 'healthy' buzz words on the label and assume it must be good."
"We're starting to learn how food additives might be impacting the rise of food allergies and intolerances," says Vetere. "Whole foods are the best option and it's rare to have a packaged bar that fits the bill. It's nice to not have to read the label for 10 minutes."
So the next time you're stressed over what or how to feed your kid, know you don't have to compromise. There's a snack out there that you can trust to simultaneously satisfy their appetites and tastes and benefit their growing minds and bodies with ingredients you actually recognize, all wrapped up in a convenient, single-serving package. No B.S.
This article was produced in partnership with RXBAR, makers of whole food protein bars with clean, simple ingredients — and no B.S. They're introducing the new RXBAR Kids, available at Target and online at rxbar.com. For a limited time, you can get 6 bars for $8 here.
This article was originally published on