The 25 Most Insanely Impressive Pumpkin Carvings of 2017
Did you know that pumpkins are technically considered fruit?
by Ben Marx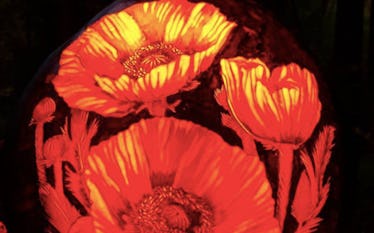 Pablo Picasso once said, "sculpture is the art of the intelligence." When he said that, the famed artist, womanizer, and lover of striped shirts probably wasn't thinking about pumpkin carving, the tee-ball of the form. But damn if pumpkin carving isn't great and damn if people don't get, really, really, really into it. Now that social media (read: Instagram) has made great carving into an orange come-on for sweet, sweet likes, people are getting even more serious and a hell of a lot weirder. This year's most impressive carvings are so insanely over the top that they do actually rise to the level of art. Great art? Nope. Good art? Probably not. Art that you can put a candle in and then clean off the lawn after a dipshit teenager hits it with a bat? Definitely.
We found some of the most creative, intricate, and flat-out crazy ways that folks have turned gourds into works of art.
Nemesis from Resident Evil
Troll-Pumpkin
https://www.instagram.com/p/Bars_eeDcJH/
Pumpkin House
Scar from The Lion King
https://www.instagram.com/p/Bars0dtAC0N/?tagged=pumpkincarving
Pumpkin-in-Chief
https://www.instagram.com/p/BarsHLbDxxL/
Jack Daniel's
https://www.instagram.com/p/Barr4yQAPCq/?tagged=pumpkincarving
Balrog from Lord of the Rings
Pumpkin Rick
https://www.instagram.com/p/BarrEzsjXgm/?tagged=pumpkincarving
Skull in a Skull
https://www.instagram.com/p/BarrDJunMu2/?tagged=pumpkincarving
Smile!
https://www.instagram.com/p/BarqwFxjNPX/?tagged=pumpkincarving
Wreck-It Ralph
https://www.instagram.com/p/BarqVxMF6Cr/?tagged=pumpkincarving
Predator
https://www.instagram.com/p/BarqJ_pgbtT/?tagged=pumpkincarving
Portal
Pomeranian
Jurassic Park
Queen Nefertiti
https://www.instagram.com/p/BarmgAMFaRk/?tagged=pumpkincarving
Pumpkin Snack
Poppies
The Scream
https://www.instagram.com/p/BarjilxA0Np/?tagged=pumpkincarving
Feed Me
Pug-kin
Ouch
https://www.instagram.com/p/BargRMLAM0s/?tagged=pumpkincarving
Doggo
https://www.instagram.com/p/BardlQhjrYm/
Eye of Sauron
The Night King
This article was originally published on