The 7 Greatest RC Video Games of All Time
No pedal, no metal, just remote controls and a lot of gumption.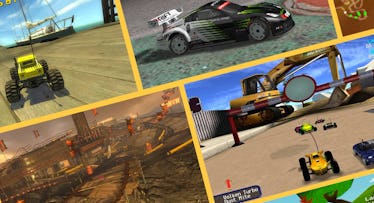 Racing video games normally try to either mimic or exaggerate what it would be like to tear around a race track in real life. RC racing video games do the same, only the actual race cars are replaced with remote-controlled ones. Sure, it's a little meta, playing an RC racing video game means pretending to pretend race, but without getting heady about it, they can be tons of fun.
When we looked for the best RC racing video games, we limited the search to those released in or after the late 1980s. We selected based on track and car varieties, visuals, and overall fun; so games had to both look good and offer tracks that didn't get too monotonous. And we didn't stick to one gaming system, considering instead both console and PC games. In the end, these seven games led the pack.
RC Pro-Am
RC Pro-Am came out on the N.E.S. in 1988 and gave players an aerial view of the entire track. And while it may be 30 years old, it is still a highly playable game. It runs smoothly and is weirdly hypnotic. The only downside is that there's no multiplayer option ⏤ which means players have to race all by their lonesome.
Re-Volt
When video game developer Acclaim Entertainment came out with Re-Volt for the PC in 1999, people loved it. PC Gamer US named it the "Best Racing Game" of the year and Computer Gaming World called it a sleeper hit. Available on PC, PlayStation, Nintendo 64, and Dreamcast, players use 28 different remote control cars and 14 separate tracks to race and blast each other with weapon packs that appear throughout the game. One feature that keeps the game entertaining is that the best weapons usually go to the player doing the worst in the race, which adds a nice element of unpredictability.
Motorstorm RC
Fun fact: The original MotorStorm video game for PlayStation 3 and handheld PlayStation Vita holds the Guinness World Record for the biggest variety of vehicles in a racing game ⏤ seven, including "bikes, ATVs, buggies, rally cars, racing trucks, mudpluggers and big rigs." No records were broken with Motorstorm RC, but there's still a ton of options including trucks, dune buggies, rally cars, and more. Each vehicle handles differently but still like, well, small remote-controlled cars.
RC Revenge
For the PlayStation, RC Revenge is a sequel to Re-Volt. It's set inside five different exaggerated movie-set worlds (including Jungle World and Planet Adventure), and players can pick up weapons in the middle of races to sabotage other cars. One minute a player can be running at the front of the pack and then they get hit by an electric pulse that short circuits their car. Next thing you know, they're dead last.
VRC Pro
Anyone looking for an RC video game that feels as close to real life as possible should play VRC Pro. Available on Steam, VRC Pro brands itself as the go-to RC racing simulator for amateurs and the hardcore RC racing community. Every car is fully customizable and every track is modeled after an actual mini track from around the world.
Smash Cars
What makes Smash Cars cool is that it follows the premise of racing remote-controlled cars to its natural conclusion. Simply, if you are a small, barely a foot-tall toy car, you're going to be surrounded by giant people and animals that can kill you. Which is exactly what happens in this game: players zip around an island trying to dodge full-sized beachgoers and dogs while flipping off ramps.
RC de Go!
Designed for players eager to go deeper than driving a car around a track a few times, RC de Go! has over 60 different upgrades for its vehicles. It also uses controls that mimic actual RC controls, with one joystick used for directional control and the other for acceleration. There's plenty of eye candy here too, as the tracks run over water and past bridges and buildings. When RC de Go! first came out on PlayStation in 2000, it was a steal at $20 bucks ⏤ as good as any of the more expensive racing games on the market at the time.