8 Great Kids Books About Dogs
There are few better subjects for kids books than man's best friend.
by Andy Kryza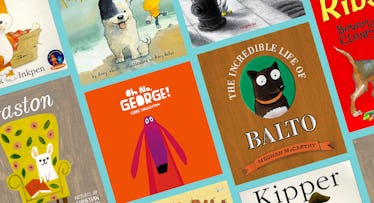 Dogs aren't just man's best friend, they're also the best friends of kid-lit authors, who have seemingly spent the entire history of publishing telling tales of canines. And while parents can always fall back on Clifford, Spot, or Good Boy Carl, there's a wealth of dog-based reading out there for readers of all ages. These eight books span from classic YA books to artful picture-based adventures.
Ribsy (1964)
By Beverly Cleary
YA books about dogs tend to end in tragedy, with books like Where the Red Fern Grows and Old Yeller scarring generations of early readers. That's not really how Beverly Cleary rolls, and Ribsy — part of her Henry Huggins series — takes the seemingly emaciated mutt on a grand adventure around town, through parks, and even onto a high school football field. Unlike most dog novels, this one has a happy ending. The same can't be said for Old Dan and Little Ann.
The Kipper series (1991)
By Mike Inkpen
The British Kipper series became a cross-cultural phenomenon since debuting in 1991, spanning more than 40 books and a hugely popular television series. The good-hearted Jack Russell's adventures are full of kindness and whimsy, with a lessons — counting, recall, morality — thrown in for good measure, and a cast of memorable characters joining in throughout the easy-to-read series.
The Incredible Life of Balto (2011)
Books like The Who Was… series do a great job of teaching kids about historical figures like Sojourner Truth and dead presidents, but The Incredible Life of Balto ensures that one of history's most famous dogs has his day too. McCarthy's joyfully illustrated book covers the same ground as the animated film — Balto was a sled dog who delivered medicine to sick folks in Alaska in the '20s — but goes well beyond, telling the rest of the story. It's as educational as it is delightful.
Smelly Bill (2010)
By Daniel Postgate
Postgate's goofy, chuckle-inducing story follows a mutt who refuses to come clean. Even better, the book is filled with linguistic flourishes to help promote learning between laughs, and more than a few literary references that belie the books' lowbrow name.
Oh No George (2012)
By Chris Haughton
George is an extremely lovable dog who is trying desperately to be a good boy, but is constantly confronted with temptations like cake, cats, and dirt. As with books like Shh… We Have a Plan, Haughton's visual storytelling utilizes simple retro techniques to great effect, with each hilarious page worthy of hanging on a wall. There aren't any grand lessons here, but the art and repetition are enough to keep early readers captivated.
Gaston (2014)
By Kelly DiPucchio and Christian Robinson
A delightfully simple story about the value of being who you are no matter what you look like, Gaston tells the story of a French bulldog raised by poodles, whose froofie lifestyle is challenged when he goes to live with his biological family, a group of rowdy pups. Guided by Robinson's simplistically beautiful illustrations, it's a story rife with themes of love and acceptance… plus, the repetition of French names gives parents a solid opportunity to test out accents while reading.
A Dog Wearing Shoes (2015)
By Sagami Ko
Sagmi Ko's brilliant illustrations — black-and-white charcoal-style renderings with small flourishes of yellow on those adorable shoes — are enough to make this a must-own. But the story at the heart of A Dog Wearing Shoes, a tale of a little girl who finds an extremely well-trained dog and wants to keep it for her own, ends up being a wonderfully compassionate lesson for kids who have run across an animal and wanted to keep it without realizing it might be missed by somebody else.
My Old Pal, Oscar (2016)
By Amy Hest and Amy Bates
The sad reality of kids and pets is that eventually a beloved animal's going to pass away, and very likely become a child's first experience with losing a loved one. My Old Pal, Oscar addresses this head on as a child walks the beach mourning the loss of the titular pooch, all while an adorable puppy tries to gain his attention. The lesson's great, especially considering it pairs the concepts of loss and hope in a way few books manage.