'Goosebumps 2: Haunted Halloween' Doesn't Have Anything to Do With Real 'Goosebumps'
Confused by this sequel? Here's what's going on.
by Alicia Kort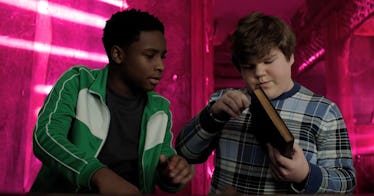 When the first Goosebumps came out in 2015, it went gangbusters and pulled in $150 million at the box office, so naturally, Sony Pictures wanted to take over the sequel and make a franchise. This is slightly confusing since a different studio, Village Road Show was responsible for the first movie. What do those behind-the-scenes changes mean for the new sequel, Goosebumps 2? Basically, it means the sequel to the first movie looks like it's a little phoned-in, and that spiritually, Goosebumps 2 already came out last month, it was just called A House With a Clock In Its Walls. Let us explain.
The first Goosebumps film came out in 2015 and was so successful in part because of Jack Black's interpretation of playing author R. L. Stine. Plus, the tone of the film was in sync with the 230-plus Goosebumps books; i.e. light, but clever. The sequel, which comes out on Friday, is also light but looks to be slightly less clever. The first Goosebumps movie followed a group of teenagers and "R. L. Stine's" daughter as they tried to round up Stine's horrifying imaginary creations, including Slappy the animated ventriloquist dummy, after they escape from his books in Delaware.
The sequel picks up, right where the last one left off, but with none of the kids from the first one. Now, there are three new kid characters—Sonny, Sam, and Sarah— who will still be haunted by the villainous antics of Slappy. But, the new main kid characters aren't even the biggest difference from the first film: instead, it's all about the writing. Whereas 2015's Goosebumps was based on a few of the classic R.L. Stine kid's chillers, this script is a totally new invention. Which means it's just not as good.
Early on, while the movie was still in development, there was speculation that Jack Black wouldn't be returning as R. L. Stine in the sequel. Luckily for you and your kids, he does return. He voices Slappy and does appear as Stine, but he's not in the movie very much. Essentially, this is a Goosebumps sequel only because Jack Black appears, and because it has the Goosebumps name on it. But, if you're looking for smarter horror that is appropriate for kids, Jack Black's other big fall movie might be a better bet: The House with a Clock in Its Walls, which is based on a 1973 book written by John Bellairs and illustrated by Edward Gorey. This movie also taps into Black's silly and sly humor. And it does it better. Can children get Jack Black Halloween-movie fatigue? That remains to be seen.
If your kid is dead set on Goosebumps 2, (pun intended) you can expect more of the same of what was in Goosebumps. The film is still family-friendly and isn't tremendously frightening. There will be plenty of CGI monsters to look at and kids who actually look like kids rather than teenagers, so your kids can see a bit of themselves in the young protagonists. It's not going to be an Oscar award-winning film by any means, but it'll be enjoyable. Just not as good as The House With a Clock In Its Walls.
Goosebumps 2 is out in wide release this Friday, on October 12.