Give Your Old Swing Set the Ultimate Upgrade
With a bit of woodworking and a few cans of Krylon spray paint, you can turn a worn backyard swing set into an epic playground.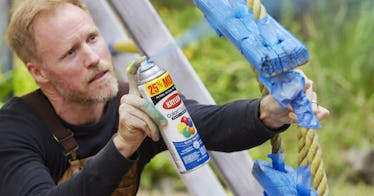 This story was produced in partnership with Krylon, the spray paint brand that can easily restore, refresh, recolor, and revive any project.
Halloween is just around the corner, but you don't want your backyard looking like it belongs to a haunted house year-round. But in August, that's exactly how video game artist Rob Adams found the state of his kids' swing set.
"I was worried that Elliot and Lia would never play on it again because it was so depressing and scary," Adams says, referencing his 11-year-old son and 9-year-old daughter. So with some spray paint in his hand and an idea in his head, Adams got to work on a swing set makeover.
"My only real plan was to take an old swing set and make it really cool again so my kids would want to play on it," he says. Well, he did it. And here's how he got it done — step by step — so you can upgrade your kids' swing set, too.
Step 1: Gather Supplies
Adams bought a few sheets of plywood, an array of Krylon® ColorMaster™ Paint + Primer – 25% More, some wood screws, wood chips, and got out his landscaping tools.
Step 2: Hose It Down, Replace the Hardware, and Spray Paint the Swing Set
As most makeover projects, this one started with a cleanup of the rot, moss, and dirt that had been collecting on the swing set over the years. Adams pressure washed the wood, cut out the rot, filled gapes with body filler, and sanded the whole thing down.
To prevent rusting, replace all the hinges and hardware on the swing set with new stainless steel pieces to rid it of rust–and to keep rust away in the future.
Then, on to the good part: Adams spray painted all wood elements on the swing set to give the entire set a colorful new glow.
Step 3: Cut Shapes, Spray Paint, and Attach
Adams traced and cut out shapes of different animals, flowers, and insects from plywood and spray painted each with vibrant colors.
Before bolting the shapes onto the swing set with wood screws, Adams spray painted all wood elements on the swing set, matching the colors with the shapes to make it all pop.
Step 4: Landscaping
Landscaping is what turns a swing set into a playground. "I spent a lot of time weeding and trimming trees and flattening the ground," Adams says. "After it all got cleaned up I bought wood chips so there's a nice new play surface that you would find on other playgrounds."
Step 5: Let the Kids Loose
Finally, the swing set was ready for Lia and Elliot to test out — but they didn't want to do it alone. "As soon as it got finished we invited their friends over and had a good time," Adams says.
But the endeavor wasn't just for the kids' enjoyment, it was for mom and dad's, too. "The whole yard is fun now," Adams says, who acknowledges much of this came together thanks to little more than some cans of spray paint."I've used Krylon to spray paint all of my outdoor projects — and after this project, I plan to stay the course."
This article was originally published on