Fyütch and The Alphabet Rockers Have a Brilliant Juneteenth Song For Kids
A great way to talk about Juneteenth with your family.
by Rebecca Jane Stokes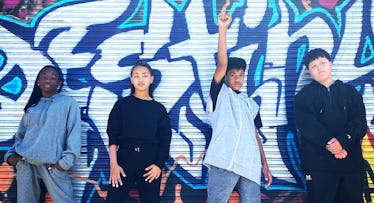 Credit: The Alphabet Rockers
Saturday, June 19th, 2021 marks a first for our country. Juneteenth, the traditionally Black celebration of the emancipation of slaves in America, has officially been made a national holiday by President Joe Biden and this means a heck of a lot more than getting another vacation day. As a white American, I didn't learn about Juneteenth until I was in my late teens, and even then, I didn't understand the full implications of what the holiday meant—and I wasn't alone. As is the case with many holidays, many people don't really know the story of Juneteenth, other than seeing it as a time of celebration, gathering, and enjoying good food.
That changes now, with a little musical assist from Fyütch. The artist, educator, and creator has paired with Oakland-based Grammy nominees The Alphabet Rockers to write "Juneteenth," a song that does more than teaching you the history of the real Juneteenth, it celebrates Black joy and is perfect for sharing with your family. Fyütch worked with Dr. Sherri Mehta to create a truly bopping track that doesn't stop with the Emancipation Proclamation, it examines and celebrates the work of the United States Colored Troops who were central in spreading the word to slaves the country over that slavery was illegal.
(Spotify track below, a Music video for the song at the bottom of this story.)
It's a personal song for both Fyütch and Mehta. Fyütch has included the track on his July 16th album release, Family Tree, a collection of stories he hopes to pass down to his daughter. Mehta herself is the descendent of a Black Civil War soldier and she is related to Jefferson Michie, who was in Galveston, TX on June 19, 1865, for the reading of General Order No. 3 which announced freedom to the remaining enslaved people. To honor this legacy, Michie's picture is actually on the front of the artwork of the single.
If you're looking for a fun and accessible way to educate the little ones in your lives about our history, then this track is a great place to start. And I have to say that it's deeply refreshing to find something that isn't just a hot rock, it's an anthem about Black America, and that's something we definitely need more of, now more than ever. Fyütch's experience as an educator and his time as a parent to his 3-year-old daughter shine on Juneteenth. Make listening to it part of your Juneteenth traditions from here on out!
Here's more on the Alphabet Rockers
Here's more on Fyütch.
This article was originally published on