Boss Level's Frank Grillo Talks Action Movies, Marvel and Dad Bods
"My oldest kid is a clone of me."
by Donna Freydkin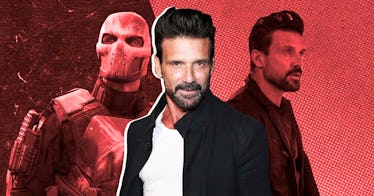 Getty / Marvel/Disney / Summit
COVID has not been kind to those of us parents who have come to resemble human marshmallows, who prefer the cushioned comfort of the sofa to a brisk run through the park. When every damn day feels like the same damn day, it's damn near impossible to motivate yourself to do anything that requires heavier lifting than, say, ordering Thai food. Zipping up pants sounds about as doable as scaling K2. So yeah, there's us. And then, there's Frank Grillo. At 55, the father of three has the stamina of Tyler Durden and the drive of Wolverine.
"I don't have a dad bod. That, I can tell you. I'm vain. I grew up wrestling and boxing," he says. "I do my stunts all myself. A lot of the choreography, I'm involved in. I like to lean into what my strengths are as a fighter and I want to look authentic. So it's fun. I get to do that stuff and train. The fight stuff comes off pretty good."
Grillo is ripped, but he's so personable, you can't even resent him for it. Clearly, the dude puts in the work. Grillo has nearly a dozen movies out this year alone and he takes a beating in most of them. In Boss Level, out Friday and directed by his buddy and producing partner Joe Carnahan, he's a special forces officer caught in a time loop and forced to relive the same day over and over again (sound familiar, quarantine parents?). In August, he's got The Hitman's Wife's Bodyguard, which has him playing an Interpol agent alongside Samuel L. Jackson, Salma Hayek, and Ryan Reynolds. Also out this year is Cop Shop, also helmed by Carnahan, starring Grillo as a con man hiding from a hitman (Gerard Butler).
He also found time to be a clutch part of the Marvel Cinematic Universe, playing Brock Rumlow (Crossbones) Captain America: The Winter Soldier. Yes, he ultimately was killed by Scarlet Witch in Captain America: Civil War, after trying to blow himself up, but as evidenced by the miraculous resurrection of Vision, death is but a construct in the MCU. Fatherly talks to Grillo about paying the bills, keeping that six-pack, and whether there's more Marvel in his future.
Let me just say that many years ago, I interviewed your buddy, Boss Level director, and writer Joe Carnahan, and let's just say, we shut the bar down. That man is a blast.
Yeah. When we shoot movies together, we live in the same house because we feel like it makes us more creative. And yeah, we drink.
You're in a slew of movies this year. Happenstance, or careful planning?
If you're a big star, like Cruise or the Rock, you can make one movie a year. You can put dinner on the table and you can pay your mortgage, and I don't make that kind of money. So I got to do as many movies as I can. Some of them aren't that good. Some of them are low-hanging fruit, but I got three kids and I've got to take care of people. I mean, some of them are not so good, but I have at least four really good movies out this year. Because of COVID, everything got bottle-necked and it looks like I'm a busy guy. I'm really not.
How's shooting action movies during COVID?
The movie business—making movies is a lot of chit-chats and wasted time. And during COVID, you can't do that, there's no chitchat anymore. Everybody's in different pods. So you make the movie more efficient and it's not so bad. You work eight hours a day and nobody really talks to each other. There's no lunch hour, which was really two hours. So as a producer, as a guy, who's in charge of monitoring the money, it's OK.
Boss Level really hits home because every single day is the same day now, and also, you got to work with Gronk in the movie. Are you in the Brady/Gronk inner circle now?
I'm a New York Giants fan, so I've grown up hating Tom Brady. But now that he's with the Tampa Bay Buccaneers, he is my favorite football player. I've hung out with Gronk, but not with Tom Brady. Tom Brady is touched by God. Talk about real superheroes. Do you know what I mean?
You're fit as hell. Do you do your own stunts?
I do them all. I do them all myself. And so it's fun. I get to do all that stuff and train and I work with the same people over and over again because they get me and they can tolerate me. There's not many people who can.
I grew up wrestling and boxing and a kind of mission statement when you're an athlete is that you are never to be more than two weeks out from being in shape. You never want to spend three months getting back in shape. That's the way I live my life. I love to work out and I box every day and I lift weights. I'm always physical and it's just who I am. I'm in better shape during the lockdown. I wore a mask and I had my trainers come to my house.
Yeah, clearly, you do not have a dad bod.
No, I don't have a dad bod.
You've got three kids. You're part of the MCU. Do they think you're the most dope dad ever?
The oldest one is like a clone of me. He's been with me his whole life. And he boxes with me. He eats the way I eat. He's a great big brother. He loves me, my little guy, because I'm in these movies and I'm into gaming with him. We play Fortnite. He's got another game that he's doing now, but because his mother and I are divorcing, I'm going to spoil him during that to make sure he comes to my house. And I got him this crazy gaming system and this computer. My middle guy wishes he had a different father. Listen, I bend over backward and he doesn't want anything to do with me. He doesn't buy it.
With three kids, what does being a dad mean to you?
My life, how I live, where I live, who I am around, has everything to do with my boys. Now that I'm a single dad again, so it's been a very interesting journey, to get to know my kids in a different way and become even more present with them. Because my time is limited now.
Vision returned from the dead. Any hope for more of Crossbones in the MCU?
As far as me going back, I can't imagine. I mean, I don't know. I would love to go back. And people think because I'm saying this to you — that's all people care about. If they want me to come back, I'd be humbled. I mean, I'd be crazy not to go back. And of course, as long as I can walk on my own two legs and still go to the bathroom by myself, I will go in and do it. Kevin Feige is a brilliant guy. If he thinks Crossbones can come back, I'll come back.
Boss Level is streaming now on Hulu.