For Girls, the Women's World Cup Didn't End With the Big Game
That big soccer victory isn't about sports anymore. It's about new heroes for the next generation of kids.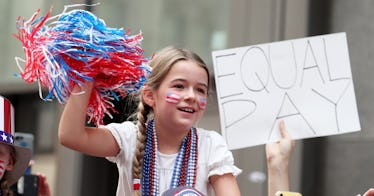 GETTY
"Oh no! Did we miss them?"
Such was the exclamation from a gaggle of Connecticut tweens clad in their World Cup jerseys clustered together, in steamy 82-degree weather in downtown Manhattan, hoping to catch glimpse of 23 women gliding under a cloud of confetti. For these kids, the big soccer games weren't the most important event of the World Cup. This parade was the event. And, it while it would be easy to get cynical about a ticker-tape parade for athletes in 2019, the celebration of the United States National Women's Soccer Team isn't really about athletes. For kids, it's very clearly something bigger.
Beyond the tea drinking brouhaha, the accusations of arrogance, the spat with our delicate and sensitive president, Megan Rapinoe, Rose Lavelle, Becky Sauerbrunn, and Crystal Dunn shut it down. And by that, I mean not just the World Cup, but downtown Manhattan, and won the hearts and minds of America's kids in the process.
As a member of the Fake News media, I'm acerbic and jaded to a fault, at times dead inside after years of covering stuff that just didn't matter when you looked at the big picture. Professional sports, and the highly-compensated and often gross athletes that are part of it, evoke as much raw emotion in me like a subway car. The smugness of A-Rod, the chilly confidence of Tiger, the blandness of Tom — all manufactured, all highly stylized. And yet, that was me, screaming at the TV screen when Lavelle dribbled her way up the field and drilled in a gorgeous, stunning goal worthy of endless replays. That was me, telling my son that he was witnessing a piece of history, a realigning of what it means to succeed. Not just for yourself, but for those who come after you.
Because beyond what happened on the field, spectacular as it was, these players took a tournament already massive and made it that much bigger than themselves. Regardless if you give a shit about Alex Morgan's semifinal header, or Rapinoe's icy penalty kick precision, you do care (I hope) about pay parity, gender equality, and having the freedom to sing or not sing the national anthem.
I played soccer in high school, mostly as a backup fullback. Sure, our team was good, dare I say great, but it felt nothing like what we're seeing today, the elation folks feel when glimpsing these players. When the World Cup team came to New York, it was perhaps only on par with an appearance by the Obamas in terms of giddiness and sheer hysteria.
Watching this team bring it home made me damn proud to be a girl. As a parent who coaches soccer, it was a way to show my kid, without being pedantic, that commitment and teamwork pay off. And as a human being on this earth, rife with environmental degradation, imprisoned refugees, and dictator hero-worship, it just made me feel good to be alive. These women own their physicality. They apologize for nothing. As for people-pleasing? I call off-sides on that.
This team even transcended supposed hurt feelings, elicited by how the players celebrated their goals. Most particularly, Morgan's tea-sipping in the semifinal against England.
"They're world champions. Of course, I'm here to see them!" stated one British lady, leaning against barriers hoping to catch one quick look. "I was hoping they'd be in the final."
So there you have it. No tea spilled. No hard feelings. Just happy frenzy.
This article was originally published on