Flying With An Infant Internationally – What You Need to Know
Flying distances with your toddler isn't easy, but it's totally doable. These simple tips will mitigate a lot of what catches other parents off guard.
by Fatherly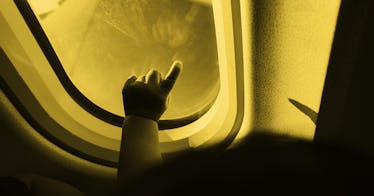 Flying internationally with an infant, or any young children can be stressful no matter how experienced of a traveler the parent is. However, with the right preparation you can mitigate the chaos of traveling just a bit. Here are some common questions & answers related to flying with an infant that will help you prepare.
How Old Does My Baby Have To Be To Fly?
Different airlines have different regulations regarding flying with infants. Most airlines will allow you to travel with infants as young as 2 days old. Other airlines require the infant to be at least 2 weeks old. Certain airlines may also require written approval from a doctor before allowing an infant less than 2 weeks old to fly. Always check your airline's website for specific information related to their policies well in advance of booking a trip.
Do I need to Pay For My Infant To Fly?
As with the age minimums, airlines have different rules regarding whether or not you must pay. In most cases, babies are free when traveling domestically if they're sitting on the parents lap.
Some airlines will charge you the full ticket price for an infant on international flights, regardless of whether or not they are sitting on your lap or have their own seat. In other cases with international travel, you may only be required to pay the taxes & fees, but not for a full ticket. Again, check with the airline to find their specific policies on fares for young children.
Also note, in some cases you may be required to have a certain number of adults accountable for each infant to qualify for free airfare. If you are expecting twins or other multiples, make sure you're
Does my Infant Need a Passport?
Yes. Any child, no matter how young, needs a valid US passport. However, keep in mind you cannot get a passport for a newborn who has not yet been assigned a federal social security number, so make sure you leave enough time to get one. If you need the passport in a hurry, you can pay extra to expedite the processing, sometimes in as little as 24 hours. When applying for any child under 16, you will also be required to apply for their passport in person at a regional passport agency.
To apply for a minors passport you will need the following:
Evidence of U.S. Citizenship (such as a birth certificate)
Evidence of Parental Relationship (such as a birth certificate or adoption decree)
Photo Identification (for the parents)
Parental Consent (either by appearing in person, or filling out the appropriate forms)
Passport Photo
Application Forms (can be found on https://travel.state.gov/)
Passport Fee (usually around $100)
The U.S. state department gives the following tips for taking passport photos of your baby.
*Lay your baby on his or her back on a plain white or off-white sheet. This will ensure your baby's head is supported and provide a plain background for the photo. Make certain there are no shadows on your baby's face, especially if you take a picture from above with the baby lying down. You can also cover a car seat with a plain white or off-white sheet and take a picture of your child in the car seat. This will also ensure your baby's head is supported.
Is It Safe For Infants To Fly?
It is considered generally safe for infants to fly as young as 1-2 days old. In fact, since there is a far lower chance of getting in an accident in an airplane than in a car if you must travel long distances. Some issues which may occur are related to discomfort from turbulence, exposure to airborne viruses in the cabin, & the inability to "pop" their ears. Consult your doctor for more advice on how to help mitigate these risks.
It is recommended that you buy the seat next to your own for the infant, and put them in a rear-facing car seat or other FAA approved child restraint device.
Getting Through Airport Security With An Infant:
Getting through airport security with a baby can be a bit of a circus. You will need to take your child out of their carrier or stroller & hold them in your arms while you go through screening. It is recommended that you arrive at least 3 hours early for an international flight to give you adequate time to deal with any issues. Everything from toys, to carriers, to strollers must be x-ray screened or visually inspected. Your best bet is to check as many of these items as you can, and only take the bare necessities. Infants may keep their shoes, belts, & other clothing on. Always pack enough food, diapers, & other essentials in your carry-on just in case your luggage is lost.
Prior to going through security, inform the agent if you are carrying any formula, milk, or juice in excess of 3.4 ounces. These items will be screened for explosives & x-rayed, but are generally exempt from other regulations.
Flying with an infant is all about preparation. If you do your research, & plan far in advance, getting through the airport will be a breeze.
This article was originally published on