Finally, a Hilarious Movie About Nicolas Cage Slaughtering His Kids
It just debuted at the Toronto International Film Festival to rave reviews.
by Ben Marx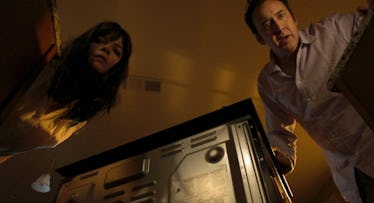 Despite a slew of critical and financial flops — and that one incident with the dinosaur skull — Nicolas Cage has always seemed to recognize his strengths: an unbridled wackiness and a genre-defying energy that ratchets any film up to 11. He seems to have found a perfect match for his manic persona with Mom & Dad, a new gonzo horror-comedy from writer-director Brian Taylor that just premiered at the Toronto International Film Festival. It's about, uh, parents murdering their kids. And critics love it.
Cage and Selma Blair play middle-aged parents in an unnamed suburbia struck by a plague that inexplicably drives parents to brutally murder their children. Inevitably affected and consumed by bloodlust, Cage and Blair begin hunting their two kids, who must fight for their lives in the very home they thought they were safe in. Brutality — and some batshit craziness — ensues, including a scene where Cage destroys a pool table with a sledgehammer while singing the Hokey Pokey.
Critics are praising Taylor's blend of dark comedy with gripping suspense, which they say smoothly oscillates from zombie bio-horror to home invasion thriller, all linked by a connective tissue of gritty violence. Taylor, known for his team-ups with Mark Neveldine for the over-the-top Crank franchise, excels at this "splatstick" bloodbath genre, but his recent films like Gamer and the Cage vehicle Ghost Rider: Spirit of Vengeance have been mired by convoluted mythology and weak scripts. With Mom & Dad, Taylor seems to have executed a cohesive vision that pushes this bonkers concept from good to great and never sacrifices the frenetic lunacy that both he and Cage pull off so well.
If you're one to flinch at violence, especially against kids, Mom & Dad likely won't be for you. The film reportedly opens with a scene in which a mother ditches her baby to die by oncoming train. Yeesh. Between this and the massive opening weekend for the It remake, it seems to be a good time for films graphically featuring children getting picked off, but what are horror movies perfect for if not tackling the taboo?
Mom & Dad hasn't been acquired by a studio yet, but with the building buzz, an upcoming release date seems inevitable. Even if Cage isn't exactly a lucky charm for success, the film sounds poised to be a new cult favorite. Just save it for when the kids aren't around.
This article was originally published on