10 Ways to Fight Boredom This Weekend: Games, Activities, and Experiences to Entertain
In search of some fun ways to spend time with the family this weekend? Try one of these activities.
by Fatherly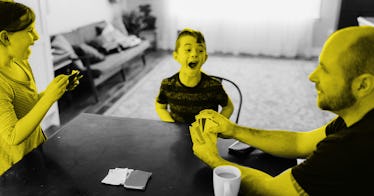 Boredom has a bad reputation. But how it earned it is not surprising. Bored kids can be frustrating (who among us hasn't succumbed to the cries of I'm booorrrrrrrrrrred) and, yes, parenting can very often be very boring (who among us hasn't lost their mind at the prospect of playing the same game or watching the same episode of the same kids show again) so we look for ways to avoid it. But if we accept boredom and lean into the increased creativity and deeper connection a moment without a task or an agenda can foster, both parents and children benefit.
Of course, we can't exist in a constant state of boredom. It must be an occasional thing. So if you and the kids are a bit antsy during this post-holiday stretch when food comas have subsided and activities must be set up, we wanted to offer some simple ideas to help you fight boredom. From workouts and recipes, to activities and, yes, even some movies to watch, here are a few ways to fight boredom if it becomes your foe.
Watch Jingle Jangle: Christmas Journey
Netflix's new holiday musical, which stars among others Forrest Whitaker and Keegan Michael Key — is an excellent way to get into the seasonal spirit. The movie somehow hearkens back to all the classics — Elf, A Christmas Carol, Rudolph the Red-Nosed Reindeer — while feeling fresh and new and tapping into everything we've been yearning for this year: hope, representation, the triumph of good over evil, and above all else, joy.
Do Some Yoga
Seriously. Whether you work from home or are on your feet all day, your body needs to twist, bend, and stretch to stay strong and flexible. Your mind will benefit from the exercise, too. This yoga routine — specifically created for dads who might not hit the mat very often — is a great way to spend 15 minutes this weekend. And if the kids want to bend with you? All the better.
Hit Up a Rollercoaster
A bunch of great front-row-point-of-view videos of Rollercoasters are on YouTube, ready for you to experience virtually. Our favorites include the Incredicoaster at Disney's California Adventure, the Manta Flying Coaster at Sea World in Orlando, the Sky Scream in Germany, and the Takabisha coaster in Japan. Make like this dad and put your kid in a laundry basket and hold them up to the screen to simulate the experience.
Rock Out
Country-rock group the Reverend Peyton's Big Damn Band has played a Thanksgiving show for the past decade. This year the concert will be livestreamed on Youtube this Sunday, November 29th for free or via donation. If you're in the mood for some classic country-rock riffs and to watch a big little band do what they do best on stage, it's a great way to spend your evening.
Bust Out a Deck of Cards
Within that stack of numbered hearts, clubs, spades, and diamonds lies a near-endless way to occupy the time — and learn new skills. If you want to play with kids we've compiled a list of the best card games, from SlapJack to Spoons, to play here. But don't think a deck of cards means sedentary. Want to keep everyone moving? Assign an activity to each suit (think: diamonds = jumping jacks, clubs = funky dance moves, etc.). Shuffle the deck, draw a card, and everyone performs the amount of the activity displayed (i.e. a two of clubs equals two funky dance moves). It's a great way to have fun — and exhaust the kids.
Take in a Broadway Show
The livestream platform BroadwayHD offers a free 7-day trial with which you can watch a variety of musicals and plays that have appeared on the big stage. The family friendly section is full of favorites like Peter Pan, The Sound of Music, and Cats.
Whip Up a "Dad Special"
We recently compiled a selection of recipes from professional chefs (Andrew Zimmern, David Chang) and kitchen-happy dads called "The Dad Special" This weekend, when the Thanksgiving leftovers run out, is the ideal time to make some pumpkin chocolate bites, banana muffins, or some ridiculously fluffy pancakes with — or for — the kids.
Make Some Homemade Play-Doh
It only takes 15 minutes to do it. All you need to make the stretchy stuff are a pot, flour, salt, white vinegar, oil, water, and food coloring. Will it have that Play-Doh smell? Sadly, no. But it's still a fun way to kill some time. Check out this recipe for inspiration. If you're not a fan of Play-Doh, you can also make slime.
Play Balloon Tennis
What's balloon tennis? Well, it's tennis with balloons. Really, it's a fun indoor exercise game designed to help kids practice hand-eye coordination, learn the basics of net sports, and burn off excess energy ⏤ all while not destroying your house in the process. It requires a balloon, some paper plates for swatting, and an open space. The object? Whap the balloon back and forth as many times as possible. You can learn how to play here.
Take the Kids on a Virtual Scavengers Hunt
Watson Adventures has assembled a "virtual scavenger hunt" across the Internet for kids. The online adventure, which takes place on November 27th and 28th, poses holiday-themed questions or tasks and takes players on a quest to various sites in search of the answers. One quest sends them to Charles Dickens' virtual house to find Scrooge; another sends them to a virtual museum to find specific toys. Teams meet with hosts who ask the questions and guide them on their adventure. The game can be played with up to six players.
This article was originally published on