7 Father-Son Activities That Have Stood the Test of Time
And the tools you need to do each one.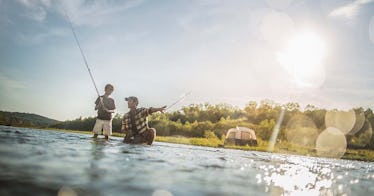 The story was produced in partnership with Leatherman
Any parent who has ever enjoyed an aimless Saturday morning with their kids, lounging around the house getting some much-needed rest and relaxation, knows that some quality family time happens without any activities on the agenda. That being said, doing stuff with your kid is a way to pique and reward their curiosity, to help them learn new skills, and—most importantly—to make memories that will last a lifetime.
But what is there to do? The possibilities are endless, but a good place to start is with the activities that parents and kids have done together for generations, projects and pastimes that lend themselves to the kind of father-son bonding that's good for everyone. Here are seven of the best if you're looking for a new hobby to share with your kids, along with the tools you'll need to let the bonding begin.
Early Morning Fishing Trips
Get up way too early, possibly when it's way too cold, and head out to the nearest fish-stocked body of water. Whether it's ice fishing, deep sea fishing, or just dropping some lines from the local pier, fishing is a quality father-son activity. There's the sense of accomplishment from getting the wrist flick of the perfect cast down flat and the long hours of waiting for bites, chatting about anything and everything. The thrill of hauling in your catching, cleaning it, and having it for dinner is actually secondary to the bonding that fishing inspires.
Tool to Make the Moment: The needlenose pliers on the Leatherman FREE P4 Multi-Tool are perfect for preparing the most enticing lure on the lake, a process that includes carefully placing small pieces like feathers and hooks together and wrapping them tightly with wire.
Whittling
You don't have to be a grizzled lumberjack to unwind at the end of the day with some whittling. Forming a stick of wood into a work of art is the kind of skill that takes a lifetime to master, but while you're carving the many imperfect models you'll make on the way to something worth displaying it's a damn relaxing one to learn. Once they're old enough to wield a blade responsibly, get your kids in on the act. Whittling is the kind of quiet, contemplative activity that today's often overstimulated kids could use a lot more of.
Tool to make the moment: The knife blade on the Leatherman Bond Multi-Tool is made of 420HC steel, a high-carbon variety that's particularly hard and resistant to corrosion.
Fixing Up an Old Car
Turning a clunker into a beaut means spending hundreds of hours tinkering in the garage, the kind of long-term project that's eminently satisfying when it's done. Dads who like to spend their time this way should get their kids in the act. Sure, their small hands can fit into tight spaces, which is a pretty useful skill to have when working on a car, but more to the point the myriad skills needed to fix up a car will serve them well into adulthood.
Tools to make the moment: Connecting the battery and the rest of the electrical system in an old car means that having tools built for wiring like the electrical crimper and premium replaceable hard-wire and wire cutters on the Leatherman FREE P4 Multi-Tool is a must.
Repairing the House
Lightbulbs need to be changed, caulk replaced, holes in drywall patched, and faulty power outlets replaced. The building you're probably sitting in right now is a gold mine of family bonding opportunities, the kind of tasks your kids will appreciate knowing how to do once they live in a place of their own. You can obviously ask them to help out on bigger projects, but don't sleep on how much more enjoyable and productive these chores can be when you have a junior partner on board.
Tools to make the moment: Pretty much all of them—houses have a lot of parts that can break down—but the ruler, dual pliers, and quad screwdrivers on the Leatherman FREE P4 Multi-Tool are especially useful to weekend warriors of all ages.
Building Computers
If your dad showed you how to take apart and put together a Commodore 64, he was definitely ahead of his time. The popularity of gaming PCs—and the wide variety of video cards, mechanical keyboards, motherboards, hard drives, cooling systems, and the like available—means that families that play video games together have a natural related hobby to explore together. Because the only thing better than destroying friends in a spirited online game is doing so on a rig you built together.
Tool to make the moment: Computers are full of tiny screws, so the extra small screwdriver on the Leatherman FREE P4 Multi-Tool is the tool you would wear out on these kinds of projects if it weren't so durable.
Constructing a Backyard Treehouse
Everyone from Bart Simpson to the kids in The Sandlot to the Little Rascals know that the best place for kids to hangout is a treehouse. If you're lucky enough to have a sturdy tree that support one, building a treehouse is probably the best kind of construction project to pursue with your kid. They won't be able to help with everything, but there's lots of screwdriving, nailing, sanding, and painting that they can help out with. And given that it's going to be their own childhood oasis, it's only right that they lend a hand.
Tools to make the moment: You'll probably want power tools to do the big cuts, but the irregularities of building in a tree means that you'll probably need to make some finesse cuts in order to ensure everything fits properly and safely. The saw on the Leatherman FREE P4 Multi-Tool is small enough to fit into tight spaces and sharp enough to make quick work of that half-inch of wood that needs to go.
Camping
Whether you're a family of car campers or long-distance hikers, doing some overnights in the great outdoors is probably the best way to commune with nature and one that provides lots of time for quality parent-kid conversations. From learning how to pack only what you need to pitching a tent to building a campfire, camping is an activity that's made up of a bunch of smaller activities that are teaching—and bonding—experiences for the whole family.
Tool to make the moment: The bottle and can openers on the Leatherman Bond Multi-Tool mean that whatever food and drink you bring along on your camping trip won't be difficult to enjoy after a long day in the wilderness.