The 10 Best Halloween Movies For Kids
Movies that won't scare the hell out of the little ones.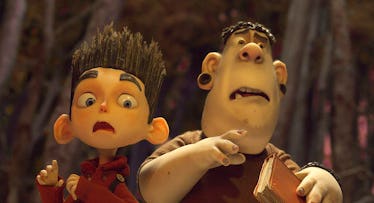 Focus Features
The best part about being a dad on Halloween: The free candy delivered directly to you at the end of the night. The worst part: Talking your kid down after watching a movie that shook them to their core. The truth is, many of the PG films of old are absolutely terrifying to kids — looking at you, Poltergeist — and even the most tame Halloween flicks have the potential to terrify. The films on this list contain minimal frights (some contain none), and work as primers for kids on Halloween. Just keep the remote handy.
It's The Great Pumpkin, Charlie Brown
How can you skip a classic? For those unfamiliar, Snoopy goes Method with his Halloween costume (the Red Baron is no match for the WWI Flying Ace). Linus camps outside all night waiting for The Great Pumpkin to show up like it's the new iPhone. And when it doesn't happen, he's bummed, but vows he'll still be back out there next year. The lesson for your kid: Life has its disappointments, but don't lose faith. And commit hard to your costume choices.
Ages: 4+
Mickey's House of Villains
Mickey and his pals invite the Disney rogues' gallery (Cruella Deville, Ursula … Miley Cyrus) over to the House Of Mouse for a spooky Halloween. In between Mickey's House of Villains' classic cartoon clips and new shorts, the bad guys plan to take over. It's about 50 percent scarier than your typical episode of Mickey Mouse Clubhouse, but about a third less annoying.
Ages: 3+
Abbott and Costello Meet Frankenstein
Who's on first? It's the arms and legs of various dead men, and the brain of a criminally insane person! The classic '40s comedy duo meet their monster match — or at least, Costello does. Dracula, the Werewolf, and the monster conveniently seem to disappear anytime Abbott turns around. They just don't make these kinds of Vaudeville hijinks anymore.
Ages: 7+
The Adventures of Ichabod and Mr. Toad
Disney puts its spin on 2 classics: The Wind in the Willows and The Legend of Sleepy Hollow. (Yes, that is Bing Crosby on the soundtrack — tell your kids he was like The Weeknd in the 40s.) The story of Ichabod's Headless Horseman is perfect for older kids coming back from trick or treating. But, if you're watching with a preschooler, you can always flip it to the B side and enjoy the mild misadventures of Thaddeus Toad.
Ages: 6+
Curious George: A Halloween Boo Fest
Toddlers and preschoolers love Halloween, because there's candy, costumes, and pumpkins that are bigger than them. They don't love screaming in terror. That's why this reimagining of Sleepy Hollow is as safe as an individually wrapped Fun Size Snickers. In this special ep of the PBS Curious George series, the Headless Horseman is just a ghost who knocks hats off of heads. What makes a better target than a monkey whose BFF is known for his big yellow one?
Ages 3+
Pooh's Heffalump Halloween Movie
Trick-or-treating over 100 acres of woods must be exhausting. Pooh and his friends keep things light as they try to make Piglet and Lumpy the Heffalump "un-scared" of Halloween. The only thing to be afraid of is your kid picking up that poor woodland creature grammar.
Ages: 3+
Hotel Transylvania
Adam Sandler voices an overprotective Dracula dad who is trying to hold onto his daughter Mavis (Selena Gomez) for as long as he can before she starts taking an interest in humans — and human boys. The cast includes Steve Buscemi as a werewolf, Kevin James as Frankenstein's monster, David Spade as the Invisible Man, and Andy Samberg as the human love interest. The only unrepresented horror character is Rob Schneider as himself.
Ages: 7+
The Nightmare Before Christmas
Set your kid up for a lifetime of emo-goth Tim Burton worship with the story of Jack Skellington, who's basically the Santa of Halloween. When he tries bringing Christmastown traditions to Halloweentown, all of his plans backfire, and everybody totally hates it. Just like you would if the CVS started hanging Christmas decorations at Halloween.
Ages: 7+
Wallace & Gromit: The Curse of the Were-Rabbit
In a misguided attempt to reprogram bunnies from eating vegetable gardens, Wallace & Gromit accidentally create a monster that threatens to destroy the town's annual Giant Vegetable Competition. There are classic horror movie references, slapstick claymation fun, and plenty of British colloquialisms.
Ages: 7+
Young Frankenstein
For older kids, look to Mel Brooks' 1974 "horror" classic, starring comedy legends Gene Wilder, Cloris Leachman, Gene Hackman, and Peter Boyle. As far as Halloween movies go, this one's more silly than scary. At its center is a young man denouncing his elders, so your preteen will probably dig it the most. And you know this already, but Brooks' movies can get a little raunchy. But don't worry, because nothing in the 70s is raunchy by 2016 standards.
Ages: 12+
This article was originally published on