Why I Take The Same Risks As A Parent That I Do When Scaling The 7 Summits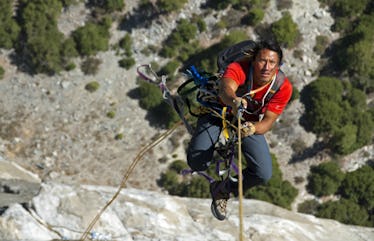 This article was produced in partnership with our friends at Nest.
I recently yelled, "Slow down!" to someone on skis for the first time in my life. We were skiing at Jackson Hole Mountain Resort, my home hill in Wyoming, and my 2-year-old daughter, Marina, was charging down ahead of me. (She had almost 20 days of skiing this winter.) It occurred to me this was probably the first time I'd felt concern over Marina's safety, particularly in the outdoors. Im sure a lot parents might think it's crazy to be skiing with your 2-year-old untethered and bombing down the hill. Then it occurred to me that I can probably assess what's actually dangerous or scary or life-threatening a lot better than most parents, because most parents haven't spent 20 years in the mountains where everything can seem dangerous and scary and potentially life-threatening.
Fatherhood is a transition for all guys. If yours doesn't look like Jimmy's, it might look something like this …
I've been held up at knife point by bandits in the desert of Chad, 5 days from the nearest road. I've barely survived a 2,000-foot avalanche in the Grand Tetons and another on the north face of Everest. So can I catch my daughter before she hits the tree skiing at that speed if she doesn't notice that little icy patch over there? Yeah, probably.
Different people have different comfort levels with risk, but risk is a relative term. People might look at what I do as incredibly risky, but I take every precaution there is to ensure the safety of myself and my crew. Personally, I'd rather ski Everest than be stuck in the back seat of a cab with a driver I don't know speeding through city traffic. That seems extraordinarily dangerous to me.
My decision-making process has always been based on making the safest possible choice, and that hasn't changed because I've had kids. I don't think it ever will. I'm still going to climb the big mountains. I'm just going to do so with knowledge and experience gained over 20 years.
So I don't necessarily think differently about my work because of my kids. If anything, maybe it's the other way around. When I'm out on production or an expedition, shit is completely sideways all the time. You really have to be prepared for anything, able to adapt, and comfortable with the unknown. And that's kind of what it's like to be a parent. You've got to think on your toes and figure out how to get to those blank spots on the map. It can get hairy but if you don't step out on the adventure you don't get to experience the beautiful moments. That's why I'm still willing to take those risks.
I've been fortunate. I married an incredible woman who is capable of dealing with me, and who's also a producer/director. Between the 2 of us, we produce our life on the fly. Whatever has to happen just kind of … does. She's done the lion's share of the parenting because I have to travel so much for work, but lately I've tried to bring the kids out. I had them on location last month, although I didn't get to see them a ton between sleeping about 4 hours a night.
It's funny, Marina's preschool teachers will say, "She's very strong-willed, very independent," and I'll say, "Well, yeah, every kid is like that, right?" Apparently not. Apparently only my kid has no qualms about running the house or running a crew of burly dudes on an expedition. I guess that happens when you've taken 30 flights and had your passports stamped from Senegal to Japan before your first birthday. (Meanwhile, my 6-month-old, James, can just chill out in a room for 3 hours, to the point where I'll forget he's even there. So figure that one out.)
So maybe that's risky to some people, but to me that's life. Those decisions — traveling with Marina and James or going hard climbing in the big mountains — are all based on knowledge and experience. You need a strong foundation, but you also have to be evolving and stay relevant. I never want to get too comfortable.
Jimmy Chin is a PDN award-winning expedition photographer, a North Face athlete ambassador for 15 years, one of the only people to climb and ski Everest from the summit, and a father to his 2-year-old daughter Marina and 6-month-old son James.
This article was originally published on