'Euphoria' Season Finale is the Cultural Reckoning of 'American Beauty'
The HBO drama has flipped the script on the way older men think about younger women.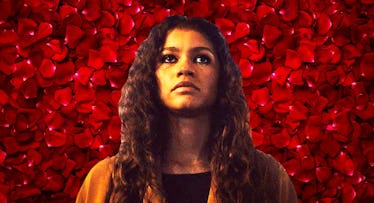 With its lush cinematography and satirical portrayal of suburban melancholia, American Beauty became a lot of people's favorite movie in 1999, for seemingly good artistic reasons. I was 15, and I loved it. But, I was also the same age as Angela Hayes (Mena Suvari), the movie's infamous "nymphet" character, the beautiful blonde teen who occupies every sexual fantasy of the movie's mid-life crisis suffering Kevin Spacey. Angela was a faux-iconic image of what is meant as "real beauty": rose petals free-falling from her mostly-nude body. She's a fantasy, a projection. She exists for the viewing pleasure of both Spacey's character and for us, the complicit audience. And now, that complicit audience of dudes who are maybe dads now, are having a cultural reckoning in the form of HBO's Euphoria. I'm not a dad and I'm not a dude, but I certainly know that I am.
Unlike Angela Hayes, the zeitgeist has girls like Cassie, Kat, Maddy, and Jules on Euphoria. Now, that the show has completed its first season, we can see it for what it is: an edgy and provocative teen drama that feels part-music video, part-Greg Araki film. It's dark and satirical, but unlike its equally visually stunning predecessor — American Beauty — Euphoria is more concerned with deconstructing the male gaze than bizarrely pandering to it. And unlike Angela, the Euphoria girls are awarded complex points of view. We marvel at the enigmatic Jules, a trans teen who wants to "tackle femininity" by sleeping with as many men as possible, and Maddy, a confident cheerleader who openly confronts her abusive boyfriend's judgmental and hypocritical family, all the while asserting herself and her right to take up space as a sexually empowered young woman in an equally judgmental patriarchy.
There's Cassie, whose pain and frustration when her boyfriend McKay consistently slut-shames her for having so many leaked nude photos kept hitting me like a gut-punch. Cassie, of course, did not leak the photos herself: Teen boys like Nate were the culprits. Cassie is revealed to be a deeply sensitive young woman who has learned to play the role of submissive sex doll in order to feel "loved" and "wanted" by men. McKay claims to loves her, but so often devalues and dismisses her, refusing to understand this. This is what the other side of the Kevin Spacey gaze looks like. These are what the American beauties of American Beauty are actually going through.
When the school principal questions Kat about her sex tape that's been circulating (mind you, without her consent), she blackmails him into dropping it entirely, threatening to make him out to be the pervert in the situation. After discovering that her tape has become a viral porn sensation, it's utterly horrifying, but in a way oddly empowering for both Kat and us as viewers: Kat is deeply insecure about her weight and the recent loss of virginity, but here are thousands of people demanding to see more of her. She becomes a covert cam girl, getting her male "cash pigs" to send her money while she humiliates them online, donning a mask to protect her identity. If only Angela Hayes had been able to scam the leering Spacey this way.
Strutting the mall in her femme-domme outfit paid for by one of her cash pigs, Kat turns every male head she passes while Billie Eilish's "you should see me in a crown" blares defiantly. In one shot, she postures in front of a black and white ad of a Calvin Klein model's washboard abs, smoking her e-cigarette with all the ease and sex appeal of Rita Hayworth or Kathleen Turner. Sure, these teen girls are still very much sexualized. It's still uneasy viewing. We worry for them every step of the way just as much as we root for them. But there's nuance here. Euphoria allows us to identify with and empathize with these hyper-sexualized young women rather than outright scorn them, and the men who abuse them are held accountable, at least in subtext.
Nate's father may never go to prison for sleeping with and filming an underage Jules, but he certainly squirms under pressure as more of her friends find out what he's done, and is forced to confront how his own repressed sexuality and internalized toxic masculinity helped shape the psychopathic, misogynistic monster that is his son Nate. McKay may never fully understand why the way he treated Cassie was wrong, but we get bits of his backstory, tidbits on how the toxic masculinity his own father instilled in him set him up to devalue and dismiss the girl he loves.
The teens of Euphoria are damaged and imperfect, but so is our culture. The show offers no easy answers, but it "looks closer" at American society more so than American Beauty ever did. In many ways, Euphoria is our black mirror: this is what we are, this is what we've always been. Now let's try and understand it.
The entire first season of Euphoria is streaming now on HBO.
This article was originally published on