Shake Things Up With These 5 Truly Epic Family Road Trips
A family road trip is a family road trip, until it's not.
by Terry Ward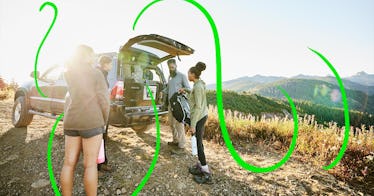 Family road trips never go out of style. But they do get predictable. Even when you set out with the best of intentions, you're still dealing with a bunch of children here. You can't get too rowdy, otherwise, you're being unsafe. Still, how do you avoid a road trip in which the kids are just glued to their screens in the back of the minivan? Fun car games and great playlists can help ease the tedium, but having a great route in the first place is crucial.
Creating a safe and fun road trip hardly means you have to stick to the predictable routes, and yes Route 66, we're looking at you! With roaring rivers, mountain peaks, legendary North American wildlife, and some excellent beach towns on the below itineraries, we've scoured the land — and Mexico's Baja California Peninsula, too — to bring you the most epic options for rolling out for fun and adventure along some routes you might not have considered.
Epic Family Road Trip #1: Hitting Baja, From Cabo San Lucas to Loreto
Most travelers tend to land in Cabo San Lucas and park it for partying poolside or playing on the sand. Keep going. When you set out to see more of what Baja California Sur has to offer with the family, the rewards are mucho. You'll want at least a week to make the most of the desert views and sweeping Sea of Cortez and Pacific coastlines that await on a road trip from glitzy Cabo north to the more mellow towns of La Paz and Loreto in Baja California Sur, passing through sleepy seaside hamlets along the way. North of Cabo on the Pacific Coast, do a surf check in Pescadero and bed down at Los Colibris Casitas in nearby Todos Santos, where suites overlook a palm-filled oasis and the coast.
The road north from there to La Paz winds along the coast and through the cactus-lined interior to the Sea of Cortez, where you should park your rental car for two few nights to go glamping at Camp Cecil de la Isla on uninhabited Espiritu Santo Island. Here, a clutch of comfortable canvas tents hug the shoreline and the camp's tender shuttles you off for activities like snorkeling at Los Islotes, where you can come face to face with sea lions underwater.
The road from La Paz north to the tiny Sea of Cortez town of Loreto skirts the coast for much of it and comes with stunning mountain views. Once there, go on boat tours into Bahía de Loreto National Park to spot dolphins and potentially blue whales (during the winter), too, and picnic on pristine islands.
The main roads through Baja California Sur are all in excellent condition but you'll want to heed the local advice not to drive after dark when livestock tends to wander down to the road.
Epic Family Road Trip #1: Traversing Alaska Along The Denali Highway
If there was ever a reason to bypass a family cruise in Alaska, it's the call of the little-traveled, open road when you head out with the family in a rental 4X4 exploring the last frontier on one of the most legendary road trips in North America.
For an epic route that takes in the Denali Highway and two other scenic Alaska highways, bet on this circular journey that starts and ends in Fairbanks.
From Fairbanks, the Richardson Highway travels 175 miles south past attractions like the Gulkana Glaciers and Chena Lake before hitting the turnoff for the Denali Highway at Paxson Junction.
Of the Denali Highway's 134 miles west from there, through towering Alaska and Talkeetna Ranges, only 24 miles are paved. You're in serious adventure terrain here along the graded gravel road—home to bear, lynx, moose, caribou, fox and more—with pullouts along the way where you can camp (if you're that hardcore) or stay t iconic Alaska wilderness lodges like the Maclaren River Lodge at milepost 42 and the Clearwater Mountain Lodge at milepost 82. Ditch the car for a back-country adventure to see wildlife, waterfalls, and more.
You can access Denali National Park & Preserve via the Parks Highway, where the Denali Highway ends. Then make your way back to Fairbanks, through the communities of Healy and Nenana, to fly back home after one legitimately adventurous family trip.
Epic Family Road Trip #3: Take the High Road, from Denver to Grand Junction
Just 1.5 hours out of Denver takes you up, up, up—across the front range of the Rockies and the Continental Divide to Breckenridge—which is as much as a summertime playground for families as a winter one.
As you make your way west from the Mile High City, stretch your legs with a hike and music history at Red Rocks Amphitheatre (the place to instill a love of live music in your offspring, if ever there was one).
Break for pie thirty minutes west of there at Beau Jo's Colorado Pizza in the sweet little mountain town of Idaho Springs before heading onward to Dillon, where you can rent kayaks or paddleboards to get out on the dazzling Lake Dillon Reservoir.
Once in Breckenridge, settle in with the family in a bunk room at Gravity Haus and spend a few days enjoying the many miles of hiking and biking trails, including the 1880s wagon road that leads to Lower Crystal Lake.
Breck is also home to the best fly-fishing waters in Colorado, and you're all but guaranteed to hook a trout when learn to let out the fly lines with the Orvis-endorsed guides with Breckenridge Outfitters in the rivers around town.
The roughly two-hour road trip west to Glenwood Springs comes with peaky mountain vistas and wide valley views, passing through Vail on the way. Reward yourself with some water fun at the recently remodeled Glenwood Hot Springs Pool or head out rafting on the Colorado River through Glenwood Canyon.
The 90-minute drive west from there brings dramatic scenery changes, as the alpine views transition to red rocks in the high desert of Colorado's western slope and Grand Junction (scout for pronghorns, elk, bighorn sheep and more along the roadside as you cruise along). You'll want to spend several days with the family in Grand Junction, as the town makes a great base for outdoor adventures along the lines of family-friendly desert biking along the Lunch Loop Trailhead, tubing along the Colorado River and visiting the Dinosaur Journey Museum in nearby Fruita.
Epic Family Road Trip #4: Explore California's Highway 1, through San Luis Obispo County
For something more surprising than the default (albeit glorious) Pacific Coast Highway road trip from San Francisco south to Big Sur, kick things off, instead, in San Luis Obispo, midway between San Francisco and Los Angeles.
The 100-mile-long Highway 1 Discovery Route through San Luis Obispo County is a place to take it slow and detour often—the distances are minimal, but you could easily spend a week or longer with your crew taking in all there is to see and do here.
Our favorite loop heads north from San Luis Obispo to Cambria and the incredible Piedras Blancas Elephant Seal Rookery in San Simeon (also home to Heart Castle), before looping south to
Cayucos and Avila Beach on your way back to SLO.
If you splurge on just one stay, make it the new White Water lodge on Moonstone Beach in Cambria, where Scandinavia meets California in a bohemian beach setting.
Among the many ways to spend a memorable family vacation along this route are taking a trail ride on Clydesdale horses at Covell Ranch in Cambria, foraging for edible seaweed in Cayucos and soaking in the healing waters at Sycamore Mineral Springs Resort & Spa.
For a rewarding day out on the water in Avila Beach, kayak out with Avila Beach Paddlesports to the historic Point San Luis Lighthouse, where you might spot whales, sea lions and otters along the way.
And if you can sneak off from the kids for a few hours, the Edna Valley just south of San Luis Obispo makes for some fun winery hopping.
Epic Family Road Trip #5: Wind Through the Adirondacks, from Lake George to Saranac Lake
As the largest publicly protected area in the lower 48, there's so much to love about road tripping through the Adirondacks on a family adventure—particularly during the leafy green summer months or the ombres of autumn.
For a route that puts the joy in the journey and can be stretched out into several days of exploring, start in Lake George and continue north along Interstate 87 to visit quainter hamlets along the route east on Route 73 in the towns of Lake Placid and Saranac Lake.
Near Lake George, Beaver Brook Outfitters leads white water rafting and guided kayaking tours as well as multi-day canoe and camping tours on several Adirondacks Lakes, if you're keen to park the car for a spell and drift deeper into nature.
The waterfront Mirror Lake Inn in Lake Placid makes for a cozy base surrounded by mountain and lake views from which you can launch family hikes, biking, fishing, boat tours, ziplining, and the like. Just east of there in Saranac Lake, you can embark on some family environmental learning at the Adirondack Center for Loon Conservation, get in some easy hiking along the Moose Pond trail or try some more challenging hikes with older kids in the nearby High Peaks.
This article was originally published on