Easy Recipes for Kids to Cook
Eight chefs offer up easy recipes they like to cook with their kids. There's no better way to get them to eat something more adventurous and healthy.
by Aly Walansky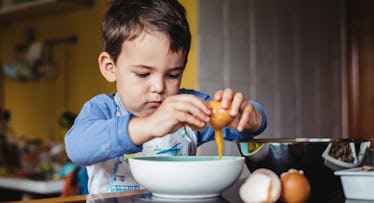 Kids menus are unimaginative. Chicken tenders, cheese burgers, and grilled cheese (with fries, not salad, thanks). Clearly the best way to broaden their palate is at home, in the kitchen, with kid-friendly recipes. When a kid gets their hands dirty making food that everyone is about to eat, it will entice them to try something new. It could change the way they eat. Or, at the very least, they'll learn some skills and help feed the rest of the family as they munch on microwaved chicken tenders. But where to start? We reached out to eight chefs for the recipes that they cook with their kids, what dishes to try out first, and how to get them to eat something more adventurous than a burger.
Idea #1: Samosas
At August (1) Five a modern Indian restaurant in San Francisco, Chef Manish Tyagi makes one of his favorite childhood snacks with his two children—samosas! A staple in Indian cuisine (it's like a fried or baked triangular dumpling, with a savory filling) samosas are easy and fun to make. An added bonus is that kids get to use their hands to fill and work the dough. "I love to cook this with my kids because samosas have all those elements that kids love. Its attractive and inviting triangular shape and the ability to play around with different kinds of shapes," says Tyagi. "The samosa can be baked or fried, but I prefer baked as it's a safer cooking method and healthier for kids."
Ingredients
For dough*:
1 cup plain flour (maida)
2 tbsp. warm ghee
Water to knead tight dough
For filling:
2 large potatoes, boiled, peeled, mashed
2 green chilies, chopped
1/2 tsp. ginger, chopped
1 tbsp. coriander, finely chopped
1 tsp. hing
1/2 lemon juice
1/2 tsp. turmeric powder
1/2 tsp. garam masala
1/2 tsp. coriander seeds crushed
1 tsp. red chili powder salt to taste
1 tbsp. chaat masala
oil to deep fry
Directions (for dough):
Make a well in the flour.
Add ghee, salt and little water. Mix well until crumbly.
Add more water, little by little, kneading into pliable dough. Cover dough with moist cloth and keep aside for 15-20 minutes.
Beat dough on work surface and knead again. Recover.
Directions (for filling):
Heat 3 tbsp. oil; add ginger, green chili, hing and coriander seeds. Stir-fry for a minute, add onion, sauté till light brown.
Add coriander, lemon, turmeric, salt, red chili, garam masala. Stir-fry for 2 minutes then add potatoes. Continue to stir for 2 minutes. Cool. Keep aside.
Make a thin 5″ diameter round with some dough.
Cut into two halves. Run a moist finger along diameter. Join and press together to make a cone.
Place a tbsp. of filling in the cone and seal third side as above.
Make five to six. Put in hot oil, deep fry on low to medium till light brown.
Drain on rack or kitchen paper.
Serve hot with green and tamarind chutneys, or tomato sauce.
*You can also substitute refrigerated pie crusts instead of making from scratch (like Pillsbury's version(https://www.pillsbury.com/products/pie-crust/refrigerated-pie-crust)).
Idea #2: Citrus Poached Tilapia BLT
Fish? Yes, fish. "For those kids who are just starting to get excited about cooking, Not only is it approachable, it's also a great way to introduce fish to picky eaters, " says Andrew Gruel, chef and owner of Slapfish restaurant. "Tilapia, especially a sustainable lake-grown Tilapia, has a clean, mild flavor, so it easily takes on the flavors of the foods it's paired with."
Ingredients
4 thick slices sourdough bread (cut from a loaf, ideally)
2 each Tilapia filet (6 oz. ideally) (Chef recommends a sustainable lake-grown Tilapia such as Regal Springs that's antibiotic free)
1 quart water
3 lemon sliced in half
1 limes sliced in half
3 sprigs fresh thyme
6 cloves garlic
1 head Bibb lettuce
2 large beefsteak or heirloom tomato
8 slices bacon — cooked
1 avocado sliced
1 tbsp. lemon juice
1 tbsp. olive oil
For the dressing (Whisk together):
¼ cup mayo
¼ cup sour cream
2 tbsp. siracha
1 lemon (zest and juice)
2 tbsp. chives
1 tbsp. Old-Bay Seasoning
Directions:
1. For the Tilapia: Bring one quart of water, lemons, limes, thyme, and garlic to a boil. Add the Tilapia and turn the heat down so it cooks at a lazy bubble until firm, about 4 minutes. Strain and cool in the fridge. When cool, gently flake into large pieces and toss in a touch of lemon juice and olive oil.
2. For the sandwich: Toast or grill the sourdough bread. Brush base of bread liberally with the dressing. Top with lettuce tomato, avocado, bacon and Tilapia. Drizzle the second piece of toast liberally with more dressing. Top and slice to serve.
Idea #3: Everything Bagel Avocado Toast
Think you don't have time to make breakfast with your kid before school? You're probably right (cereal it is). But if you manage to set aside 20 minutes, you can work to create Justin Cucci, chef owner of Vital Root in Denver's Everything Bagel Avocado Toast. "This is something we came up with together as a quick, on-the-go protein-packed breakfast with tons of flavor," he says. The best part: it requires just your hands. "Making this dish is essentially like playing with your food."
Ingredients
2 slices sandwich bread of choice
6 tbsp. avocado mashed
2 tbsp. Everything Bagel Spice (Chef makes his own but this can be found at any grocery store)
4 tsp. radish watermelon (organic)
6 tsp. sprout mix (or micro greens)
6 tsp. crushed smoked almonds
4 tsp. date molasses
6 tsp. Electric Lime Hot Sauce (or hot sauce of choice)
3 tbsp. fried chickpeas (available at most grocery stores)
Directions:
1. Grill toast on both sides on flat top with light canola oil (or to simplify, use a toaster.)
2. Coat fried chickpeas in Everything Bagel Spice mix
3. Begin layering toast first with avocado mash
4. Next layer with smoked almonds, Everything Bagel spice, and Everything Bagel chickpeas
5. Top with watermelon radish and sprout mix
6. Drizzle on date molasses
7. Serve with hot sauce on the side. Add an egg for an extra protein packed breakfast.
Idea #4: Asian-Inspired Grilled Chicken
This recipe will help to teach kids about spices, sauces, and how to marinate. "It is good because it mostly relies on kids measuring all of the ingredients with a tablespoon and then mashing up some garlic in a mortar and pestle," says Sean Josephs, a father of three and owner of Maysville restaurant in NYC and Kenton's in New Orleans.
Ingredients:
4 tbsp. olive oil
2 tbsp. toasted sesame oil
3 tbsp. soy sauce
1 tbsp. mirin
1 tbsp. rice wine vinegar
3 medium garlic gloves ground to a paste in a mortar and pestle (a pinch of kosher salt helps break down garlic.
Directions:
Put all ingredients in a mason jar and shake vigorously.
Put boneless chicken breasts or boneless/skinless thighs (or both) in a large sealable plastic bag. Add marinade and mix with hands until completely coated and let marinade ideally for 24 hours but at least 3.
Grill over charcoal or use gas grill.
Idea #5: Spaghetti Tomato and Fresh Basil Sauce
"My kids, like most kids, love pasta; they love eating it, but they also love cooking it." says award-winning chef and father-of two Michael Schlow. "As a way to get my kids to eat a wide variety of foods, we've found getting them involved in actually helping with the cooking at an early age is a sure fire way to get them to try different things. Spaghetti with Tomato and Basil Sauce, when made with love and care, always makes kids happy."
Ingredients:
4 oz. of thin spaghetti
2 ½ oz. of extra virgin olive oil
6-8 basil leaves
large pinch of salt
12 oz. of milled San Marzano tomatoes
1 tbsp. of butter
¼ cup of grated parmigiano
Directions:
Bring a pot of salted water to a boil
Drop pasta in.
In a sauce pan, place olive oil and basil and place over high heat
Cook until basil starts to crackle, approx. 30 sec to 1 min
Add salt
Add Tomatoes and cook for approx. 3-4 min
Check pasta for doneness
Remove sauce from heat, add butter and swirl in
Once pasta is al dente, strain and add to sauce
Return to the heat and cook together for 15-20 seconds
Add cheese, toss together
Serve
Idea #6: Almond Butter
Chef Jaret Blinn of CRAFTkitchen in Henderson, NV has a daughter who is allergic to peanuts. So Jaret brings her in to makes almond butter. "It makes my daughter feel safe that she has a peanut-free alternative for snacks or sandwiches," he says. "With peanut allergies common these days, we wanted to provide an peanut-free alternative for our young diners in our restaurant."
Ingredients:
2 cups whole almonds, skin on
1 tsp. Maldon sea salt
1 tbsp. vegetable oil
Directions:
Toast almonds in oven at 350 degrees for 10 minutes or until toasted golden brown.
Let the almonds cool slightly.
Place almonds in a food processer. Add salt and vegetable oil. Repeatedly scrape sides and process until desired consistency.
Store in an airtight container in your refrigerator.
Idea #7: Fudge Brownie Cookie Cups
Cookies are one of the best ways to get kids started with baking. In the process, they learn to measure, can memorize the ingredients, and get to lick the spoon. "A great way for kids to learn the art of baking without having to use any major equipment is these Fudge Brownie Cookie Cups," says Pastry Chef Nicole Pomije. "They are innovative and fun without the worry."
Ingredients
3 medium eggs
1 tsp. of vanilla extract
1 1/4 cup granulated white sugar
1 cup white flour
1 bar of Bakers unsweetened chocolate
1 stick of unsalted butter
Directions
These Fudge Brownie Cookie Cups are super easy for kids to make because they can be completely made by hand in a mixing bowl- no electric mixer needed!
Crack eggs in large mixing bowl and add vanilla extract and sugar. Mix until smooth. Melt chocolate and butter together in microwave (about 2 minutes). mix until smooth and add to mixing bowl ingredients. Add flour and mix until there are no "bubbles". Using a mini scoop, scoop mixture into mini cupcake pan. (You should get about 36 out of this.) Bake in oven on 375 degrees for 11-12 minutes. Let sit before frosting or serving.
For easy frosting/glaze mix water with powdered sugar together and add a drop of food coloring!
Option: You can add chocolate chips to make this more crunchy and chocolaty if desired!
Idea #8: Homemade Pizza Party
Homemade pizza is a clutch entry-level dish. Michael Doyle, chef at Press Street Station in New Orleans and father of three, takes it one step beyond pre-baked crusts and brings the kids into the dough-making process. "I have the kids weigh or measure ingredients, mix the dough and then we all help out shaping it, though I often end up finishing that!" he says.
Ingredients:
1 tbsp. active dry yeast
3 tbsp. sugar
1 ¾ cups- 2 cups tepid water
22 oz. all-purpose flour (about 5 ¼ c), plus more for working
1 ½ tbsp. salt
1 oz. olive oil
Toppings: Red sauce and mozzarella, but can also include whatever else you can find: olives, bacon or sausage, pesto, feta, broccoli, Brussels sprouts, capers, canned smoked fish products, squash.
Directions:
In a bowl, mix the water and sugar and sprinkle the yeast on top. Let it sit for about 15 minutes to bloom.
In a large bowl, mix the salt and flour. Add the bloomed yeast mixture and then the oil and mix. Knead for a few minutes until everything comes together.
Cover with a tea towel or plastic wrap and let sit for at least 15 minutes at room temperature.
After the dough sits, you can either move it to the fridge for use later or begin working with it right away.
Weight the dough into 5 oz. lumps or eyeball it into however many pizzas you want to make.
Grease a baking sheet for each pizza very lightly and set an oven to 400 or fire up the grill if you want to be a real hero.
Flour your surface generously and form the dough into a tight ball. It should feel tense. Smash the ball seam side down on the floured counter and form into a disc. Flour the top generously and begin rolling with a pin or a wine bottle in a circular pattern, stretching out the sides. When you're having trouble stretching it further, pick up the dough and hold an edge with the thumb and forefinger of each hand and work around the edge of the dough, allowing gravity to stretch the dough further and break down the gluten walls. Return it to your floured surface and roll a few more times.
Everyone makes their own pizza.
After everyone makes their pizza, cook each pizza for about 20 minutes in the oven — children's tend to take longer than adults due to ingredient density, but you know what a finished pizza looks like. Let them rest about 3-5 minutes out of the oven before removing and cutting.